Tall people have it easy in most runs of life. They are perceived to be more masculine, more attractive, and overall tend to be perceived more favourably than shorter individuals. However, karma does bite back when it comes to comfort. Whether you are talking about legroom in aeroplanes or headroom in cars, tall people are generally served the short stick in matters of comfort.
Things are no easier when it comes to homes. Furniture sizes are designed with the general public in mind, and that handily excludes people of more than average stature. Feet sticking out of the end of the bed, not being able to comfortably sit on a sofa: the list goes on. Thankfully, Lazyboy makes recliners that are designed to accommodate individuals from all walks of life. With these products, you need not sacrifice on comfort any more.
Tips for Buying Recliners for Tall People
Durability
It's not easy being a tall person, especially when you want to buy a comfortable recliner. You simply can't compromise on the sturdiness of the recliner, as it should be able to support your weight and size. It's best to buy a recliner with an iron or metal frame that supports the overall recliner structure as well as the weight of the person sitting on it. Also, the upholstery should be low maintenance and easy to clean.
Adjustable Features
The recliner shouldn't just fit your body while fully extended. Instead, it should offer manual or automatic adjustment features to ensure comfortable angles and positions. Many advanced recliners allow you to select the reclining angle within a range to maximize the seating experience. Also, some premium-quality recliners include massage and heating options; however, these can be pricier.
Dimensions
You should always evaluate the dimensions of the recliner when it's extended or not. Also, never forget to check the height of the recliner if you don't want to stress your thigh muscles. For instance, if the sofa seat height is short, you won't be able to rest your thighs on the soft seat. Similarly, the backseat's height should be sufficient to support your neck and head.
4 Best Lazyboy Recliners for Tall People
The Gibson is one of the company's leading offerings in recliners. The super tufted upholstery such as the billowy back rest and seats with additional padding ensures unparalleled comfort. The pillow-top arms and large size ensures that you can have a comely experience with the Gibson. The broad dimensions also make the Gibson perfect for tall individuals who cannot easily fit in most recliners. The Gibson also comes with the PowerReclineXR feature that allows you to electronically adjust the back and leg-rests independently into 54 different positions.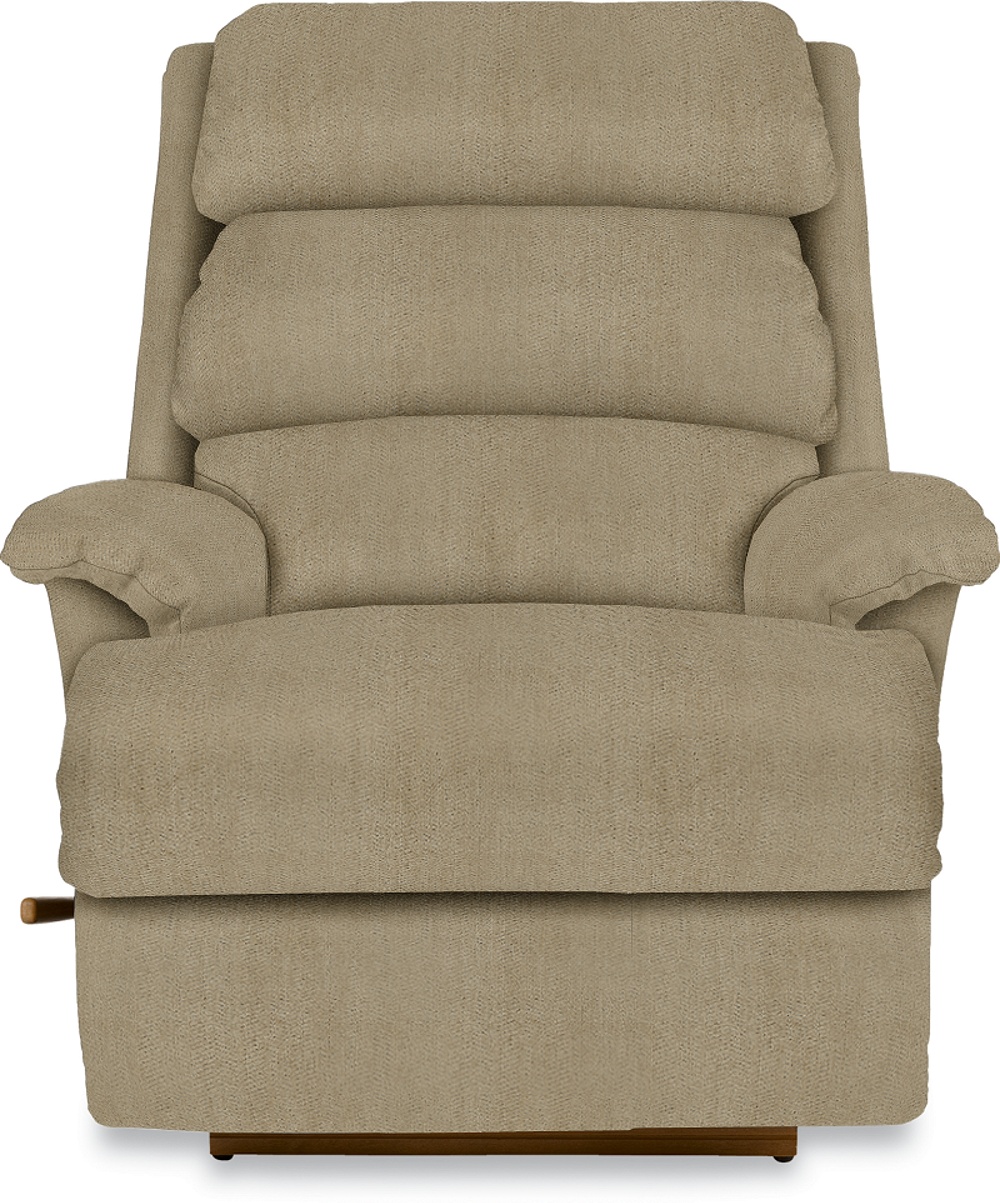 The Astor is the Lazyboy version of the "big and tall" chair, designed specifically for taller people. Its unique movement mechanism allows it not only to recline but also rock, a novelty functionality few competitors can imitate. With its rock solid construction and perfectly padded surfaces, even the most demanding customers can have their comfort needs met with the Lazyboy Astor. The subtle variegated tones on the upholstery gives the recliner an understated yet sophisticated look that can easily uplift the look of any room or den.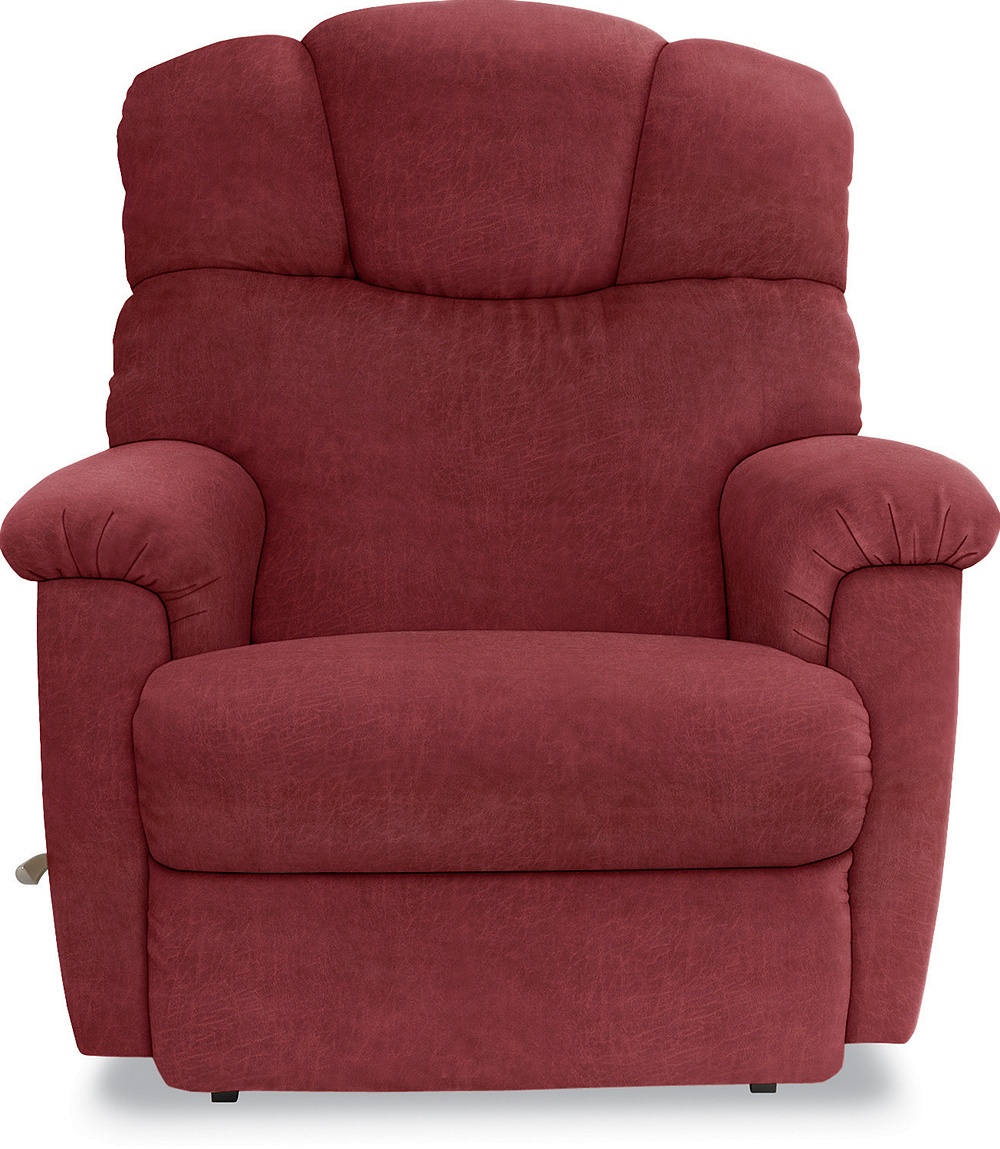 The Lancer from Lazyboy provides uncompromising comfort and style quotient for your living room. The channel stitched back provides consistent lumbar support in any configuration, the triple reinforced pillow-top armrests, and the 3 way adjustable footrests add to the overindulgent luxury that the Lancer provides. With a total of 54 different positions, finding a configuration that best suits your personal preference is a piece of cake. The Lancer also has an inbuilt rocker functionality that can be controlled via remote control. The large surface area ensures a comfortable experience for even the tallest of customers.
The ultimate big boy chair from Lazyboy, the Logan comes with a distinctively tall back and plush cushioning on all walls. Its oversize design is specifically intended to be used by people who might not necessarily be comfortable with normal sized recliners. The chaise seat and footrest as well as the tall seat height are all designed for this exact purpose. With reinforced construction and build quality ensure that the Logan will perform as intended for a long time.
Best Non-Lazyboy Recliners for Tall People
1. Lane Home Furnishings Rocker Recliner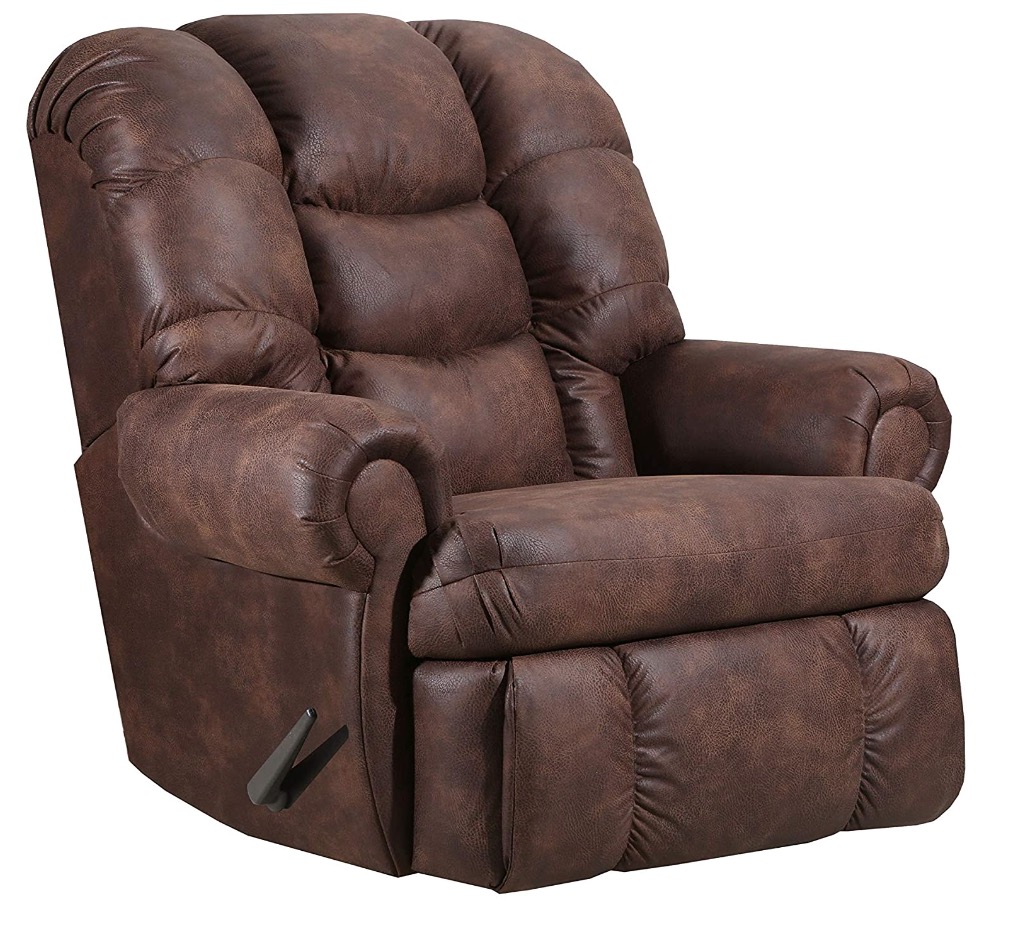 It's a luxurious rocker recliner featuring seven gauge steel that offers a weight capacity of up to 500 pounds. This sturdy recliner comes with 2.2 HR foam and bolt-on arms to further improve its durability. Also, the tenon joints, hardwood frames, and steel recliner mechanism guarantee a long-term and safe investment. The upholstery comprises premium-quality leather that appears to be soft suede. Also, it's waterproof, and you don't need to worry about spillage.
» View and check price…
2. Christopher Knight Home Gannon Fabric Gliding Recliner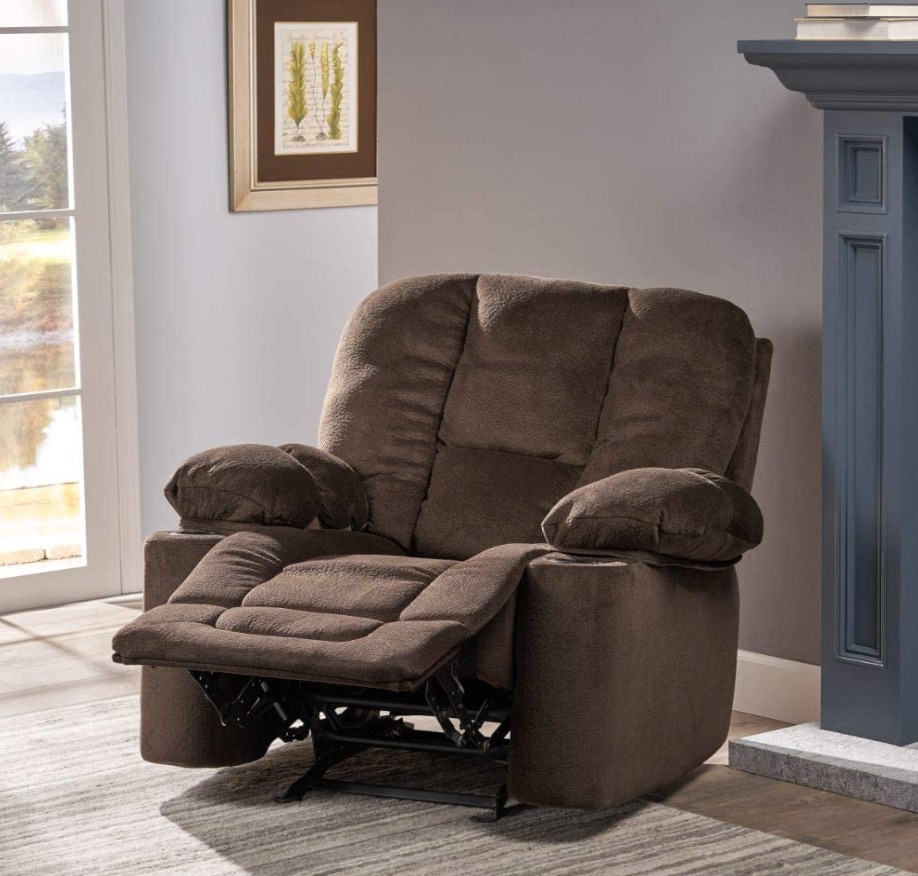 The sturdy wood frame of the recliner offers the desired support to the polyester fabric upholstery and the person sitting on it. You can sip a cup of coffee and place the cup in the holder while reading your favorite book sitting in this comfortable gliding recliner. The smooth gliding elevates the recliner experience allowing you to sit back and let the recliner glide to a comfortable position. Also, the foam cushions and ultra-wide armrest hug your body, allowing you to de-stress after a hectic day at work.
» View and check price…
3. Ravenna Home Oakesdale Contemporary Glider Recliner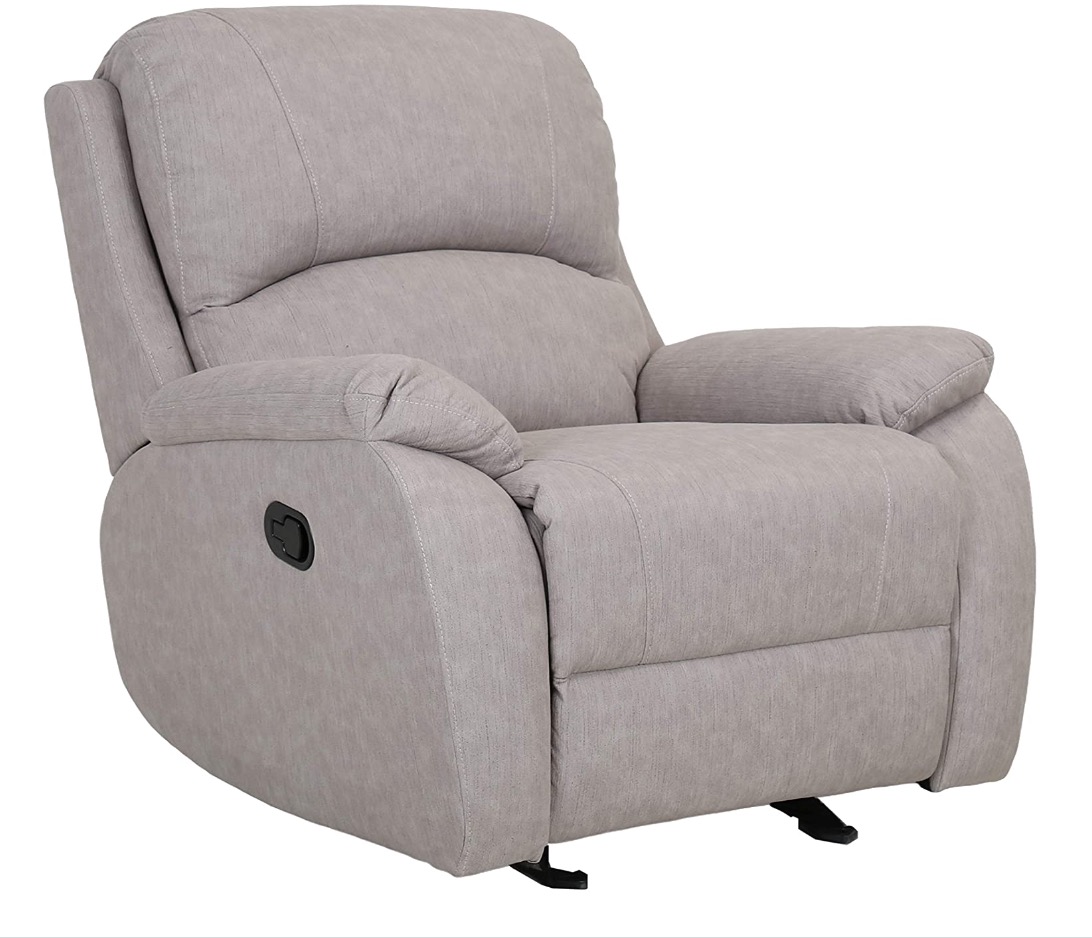 It's a stylish yet comfortable glider recliner with a sturdy iron frame perfect for tall people. You can manually recline the sofa with a gently rocking motion to sink in the padded cushions and unwind your day. The good news is you can assemble the recliner within 15 minutes without requiring any professional help or advanced tools. The upholstery is made of breathable, comfortable fabric that doesn't feel harsh or heavy.
» View and check price…
Which recliner is best for you?
As with most things in life, there is no clear answer. It all comes down to personal preference and how much you are willing to spend. If you have a budget in mind, buy the best you can afford and do not look back.
There you have it. We hope this simple guide help all the tall people out there struggling to find a decent recliner chair due to their height. Also consider buying some of these Lazyboy accessories for your recliner and remember if your recliner ever have a problem, make sure to visit our Lazyboy common problems guide.
Small spaces often require smaller furniture, but it does not mean that you have to give up the comfort. Lazyboy offers some pretty good recliners that have perfect dimensions for smaller spaces and yet still don't lack the comfort and the coziness (that usually comes with small furniture).
Three reasons a Lazyboy is the best for small spaces:
1. First, a small room doesn't necessarily need to be decorated with petite furniture. One piece that is large enough to welcome you into its comfort, and yet small enough not to ruin the space will put a great accent in the room. By investing in a comfortable Lazyboy recliner you are investing in a long-term comfort, a standout piece that will be the center of the attention.
2. Lazyboy offers recliners that have smaller sizes, that are equally comfortable and cozy as any other recliner on the larger size. The size truly does not matter, because Lazyboy does not spare on comfort, softness, and coziness. Just because your place won't allow you to decorate it with super, mega large furniture, it does not mean that you cannot find an equally comfortable piece that will serve you well.
3. Every Lazyboy recliner gives you the option to extend the legrest, so even if this is the only piece of furniture in your small room, you know that you are going to be provided with a comfortable chair where you can sit, or take a refreshing nap, all with the touch of a button. Lazyboy sizes vary but the comfort is equal.
4 Best Lazyboy Recliners for Small Spaces
1. Joshua Reclina-Way Recliner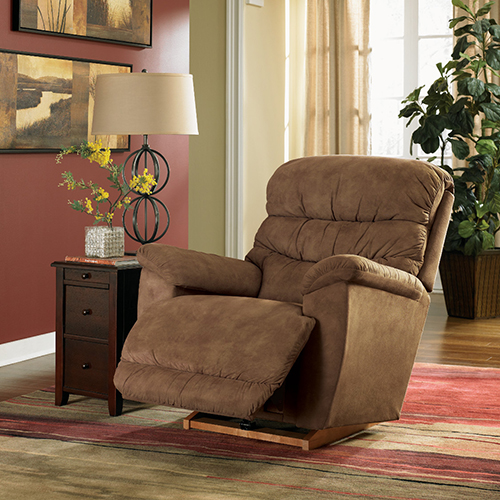 With its elegant design and carefully crafted inside and outside, Joshua offers a soft rest for your neck and head. Your arms as well will have a lovely rest on the side padded cushions, and you won't have to worry about your legs and back either. The fact that this recliner is slightly smaller, makes it beyond ideal for a smaller living room or a perfect chair for a tiny game room. You can even rock and lounge on it because Joshua has it all.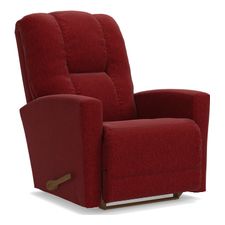 Casey is an elegant design, made specially to fit any chick and modern designed living room or bedroom. This recliner has a soft way of welcoming you into its softness and will take care of you in a way you only hoped for. Soft backrest, carefully designed armrests to keep your arms in a nice position and a mandatory legrest – Casey has everything a modern human needs. With Casey you can now recline in only several inches from the wall. Isn't it perfect?
3. Maverick Reclina-Way Recliner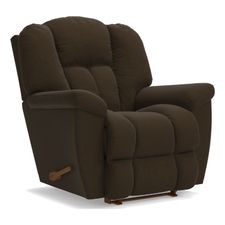 Maverick looks like a comfy and puffy seashell. This recliner has the ideal size for your small space, and it will not disappoint you at all. Every inch is carefully padded with soft materials, allowing your back, legs, arms and your neck have the ultimate comfort after a long and busy day. This recliner can do miracles for a nice nap, all you need to do is push the button on the side and let the legrest expand.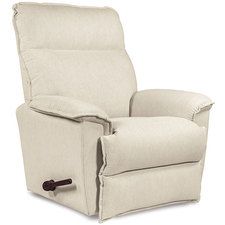 Excellent when comes to its sharp design, Jay has a high backrest that will not let you down when you use this recliner to watch TV or play video games. Smaller on the size, Jay will fit ideally in a tiny living room, won't suffocate the space and yet will give you the needed comfort. The simple lines make it ideal for perfectionists who want minimalism. Jay is nicely softened with the puffy backrest and the comfortable seat. The mandatory button for the legrest is there too as a cherry on top.
BONUS: Best Recliners for Small Spaces from Amazon
1. CHITA Power Recliner Swivel Glider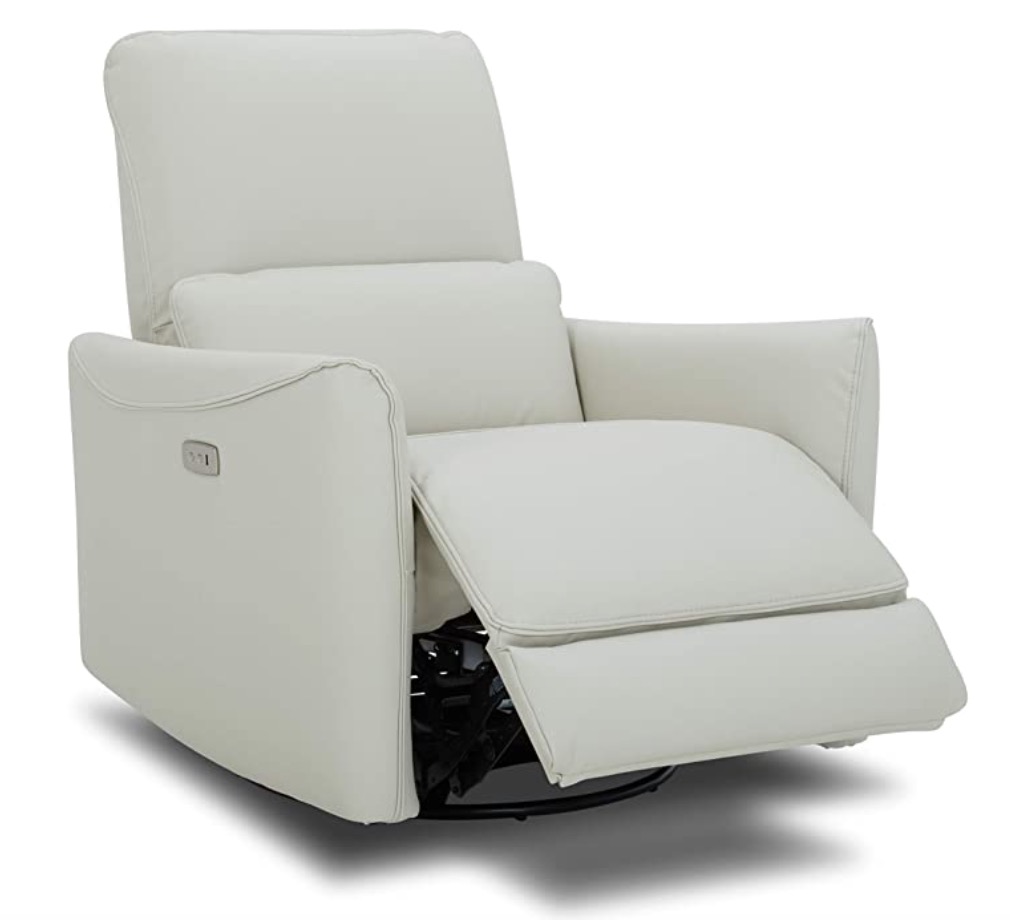 It's a multi-purpose swivel recliner designed for you to stretch, relax, watch TV, and read books. You can take a quick nap because of the extendable footrest and reclining feature. It's one of the sturdiest recliners featuring a patented Leggett and Platt mechanism that passes the 25,000-cycle life test, which is outstanding. All you need to do is to fix the back into the seat, and you are all set to binge-watch movies and shows.
» View and check price…
2. Smug Fabric Massage Recliner Chair
This versatile recliner chair isn't just an ordinary sofa chair; it offers a two-point message on your waist. Also, the premium-quality breathable fabric provides comfort while you relax by adjusting the recliner 90 to 160 degrees. Thanks to the sturdy hardwood frame and widened base design, you don't need to worry about flipping back. The good news is you can assemble this recliner in less than two minutes by slipping the back onto the base and screwing the legs. Next, simply attack the massage controller and plug the power cable, and you are done.
» View and check price…
It's a modern and affordable swivel recliner sofa that takes 15 minutes to assemble. You can use the 360-degree swivel, rocking, or reclining function. The recliner features an aesthetically pleasing yet comfortable design with foam padding and microfiber upholstery. Also, the hardwood frame offers the desired support and stability, making this perfect recliner addition to your living room. Finally, the 30-day money-back guarantee and one-year warranty ensure a safe investment.
» View and check price…
Tips & Advice for Buying Recliners for Small Spaces
Upholstery
The upholstery doesn't just serve as an exterior of the recliner. Instead, the material should be durable, breathable, and, most importantly, easy to clean. Similarly, you can opt for a water resistance upholstery such as faux leather. Also, the color of the upholstery plays a make-or-break role in making your room look big or small.
Weight
It shouldn't be a hassle to assemble using the instruction manual. Also, if you want to relocate the recliner often, it's best to buy a lightweight yet sturdy recliner. The weight should be heavy enough to stabilize in different reclining positions. However, the recliner shouldn't be large, with bulky weight leading to an injury or a hazard.
Features
You can buy a simple manual recliner at an affordable price. Alternatively, you can opt for advanced features, such as a swivel base, power life, massage, or an additional heating option.
For instance, the swivel base allows you to change the direction, while the power life is best for people with limited mobility, allowing them to stand and sit without body strain.
Small spaces no longer have to lack comfortable furniture, because now Lazyboy offers you all the comfort you seek nicely wrapped in puffy, comfortable and soft recliners that will help you rest and lounge just a few inches off the wall.
If you own a motor home, you might have thought about getting a recliner chair for your RV. But, before settling on any decision, it is always good to consider all the pros and cons of such a move. There are some questions you need to ask yourself before you buy that recliner.
RV Recliners Buyers Guide & Tips
Is my RV big enough for a recliner?
If you already have trouble with the amount of space you have in your RV, then perhaps getting a recliner is not a very good idea. On the other hand, if you have even a bit of space, there are many recliners which are designed to fit into small spaces without compromising comfort. See how much space you have before making a decision.
Check and read customer reviews
It's best to check the customer reviews before buying a suitable recliner for your RV. The product reviews and first-hand experience of other users allow you to evaluate the recliner's functionality, features, pros, and cons.
Find a reliable seller
Once you find a recliner with the desired weight capacity and dimensions, the final step of the purchasing process is finding a reliable seller. For instance, you can pay full-service delivery to receive the recliner box intact at the agreed time and date. Many trustworthy sellers offer exceptional post-sales services to enhance the customer experience
How much do you love recliners?
We can all agree that recliners are the most comfortable piece of furniture, but how much emphasis do you put on comfort in your life. There are some people who are just fine sitting on uncomfortable furniture, and see no real need for comfort. If you are one of those people, a recliner would be unnecessary. But if you like to relax in front of the TV in maximum comfort, then you should consider getting a recliner.
What is your budget?
If you're struggling to get by, a recliner would be an unnecessary expense for you. On the other hand, if you have a few hundred extra dollars, there are some extremely comfy RV recliners which won't have you deep in the red.
Depending on your answers to these questions, you either should or should not get a recliner for your RV. If the answer is yes, we have prepared a short list of the top RV recliners. Have a look and make your choice.
The Top Lazy Boy Recliners for RV
1. La-Z-Boy Pinnacle Leather Rocker Recliner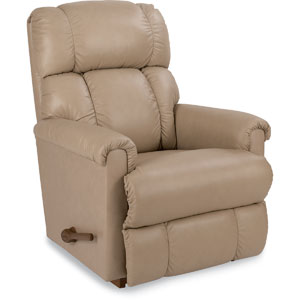 This amazing recliner is quite small and extremely comfy, which makes it a top choice for your RV. It is covered in leather, which adds to both its class and comfiness. Enjoy rocking and reclining on this great product while drinking a beer or watching TV, or in the company of a good book. It will embrace your whole body, offering the support it needs to avoid aches and pains. A definitely great choice! »
Buy now!
2. La-Z-Boy Lancer Power XR+ Recliner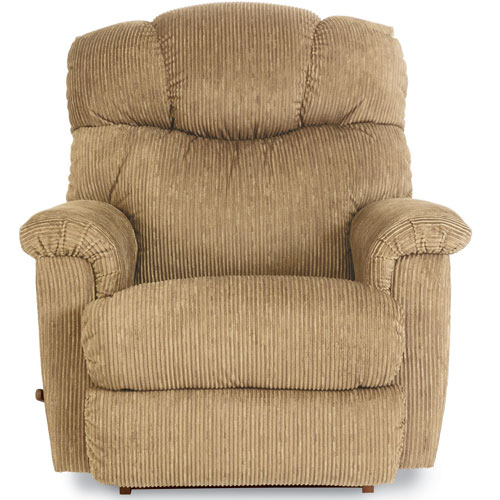 A bit bulkier than the Pinnacle, the Lancer is perfect for those who love the classic retro style. It is an electric recliner, which means that it does all the work for you. You can recline in any position with the push of a button. It provides the ultimate comfort and great lumbar support for those who have lower back problems. A nice choice for relaxing after a day on the road! »
Buy now!
3. Harbor Town Reclina-Rocker Recliner
The Harbor Town Reclina-Rocker® Recliner is one of those rare recliners that combines the modern design with the comfort of regular recliners. It is sleek and narrow, which means it can fit into the smallest of spaces. The clever design put less emphasis on arm rests, getting rid of the pillowed and bulky kind, are replacing them with modern lightly padded arm rests. This is what makes the Harbor Town Reclina-Rocker® Recliner narrow, and a perfect fit for an RV. And it combines all of these features without compromising comfort! »
Buy now!
BONUS: Here Are The Best RV Recliners from Amazon
Best Wall Hugger Recliners for RV
1. Thomas Payne Euro Recliner Chair for RVs
Thomas Payne is the perfect recliner if you are a travel enthusiast and own an RV. You can select any of the two style options and three colors according to your RV's interior – vinyl or woven fabric. The padded armrest and foam interior ensure comfort, while a simple manual side level allows you to recline up to 60 degrees to take a small nap. Because of the compact design, you can install this lightweight recliner in your RV with a 26-inches entryway.
» View and check price…
2. RecPro Collection Recliner Slideout
Featuring a distinctive modular design, the RecPro Charles Collection recliner is perfect for tight spaces such as RVs. The good news is you can assemble this lightweight recliner in less than five minutes. One of the most significant advantages of investing in this sturdy recliner is its easy maintenance and cleaning, courtesy of the toffee faux leather. The recliner caters to your comfort as it includes padded armrests and headsets.
» View and check price…
3. Thomas Payne Recliner Trailers Motorhomes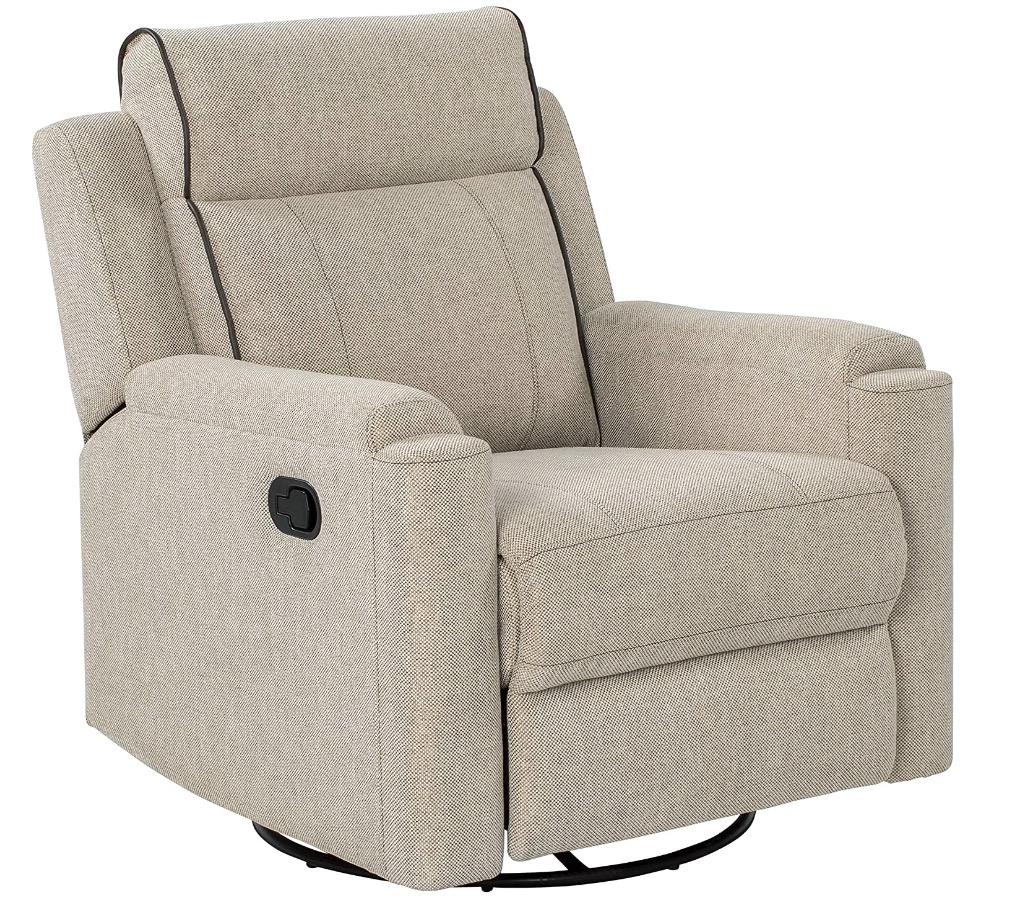 Whether you want to select vinyl upholstery or woven fabric for RV, the THOMAS PAYNE recliner has got it covered for you. Thanks to the manual recline handle, you can conveniently elevate the footrest to relax on the open road. This swivel glider recliner is a perfect addition to your RV featuring a foam core interior to ensure a comfortable experience. You can use a soft microfiber cloth to clean the PolyHyde fabric if your kids spill some snacks.
» View and check price…
Best Loveseat Recliners for RV
1. Signature Design by Ashley Reclining Loveseat
You can literally sink into the ultra-plush cushions of this Loveseat Signature Design by Ashley McCade. It takes your comfort to the next level by offering pillowed armrests with rounded sides and detailed switching. It's a dual-sided recliner while the middle seat remains stationary; hence two of you can recline and relax. In addition, you can enjoy a movie night with your family in your RV and use the lift-top storage console to place your cup holders.
» View and check price…
2. Signature Design by Ashley Leather Power Reclining Loveseat
If you want to experience a comfortable theater experience in your RV or trailer, look no further and buy this power reclining loveseat. Also, you can store your snacks in the hidden arm storage compartments and place the cups in the cup holders to prevent spillage. The rustic brows faux leather gives the recliner a luxurious look allowing you to binge-watch your favorite shows or enjoy playing video games. Also, you can use the single-touch power controls to recline the seat, adjust the headrests, or flip up the LED light to read.
» View and check price…
3. ACME Furniture Zubaida Loveseat w/ Console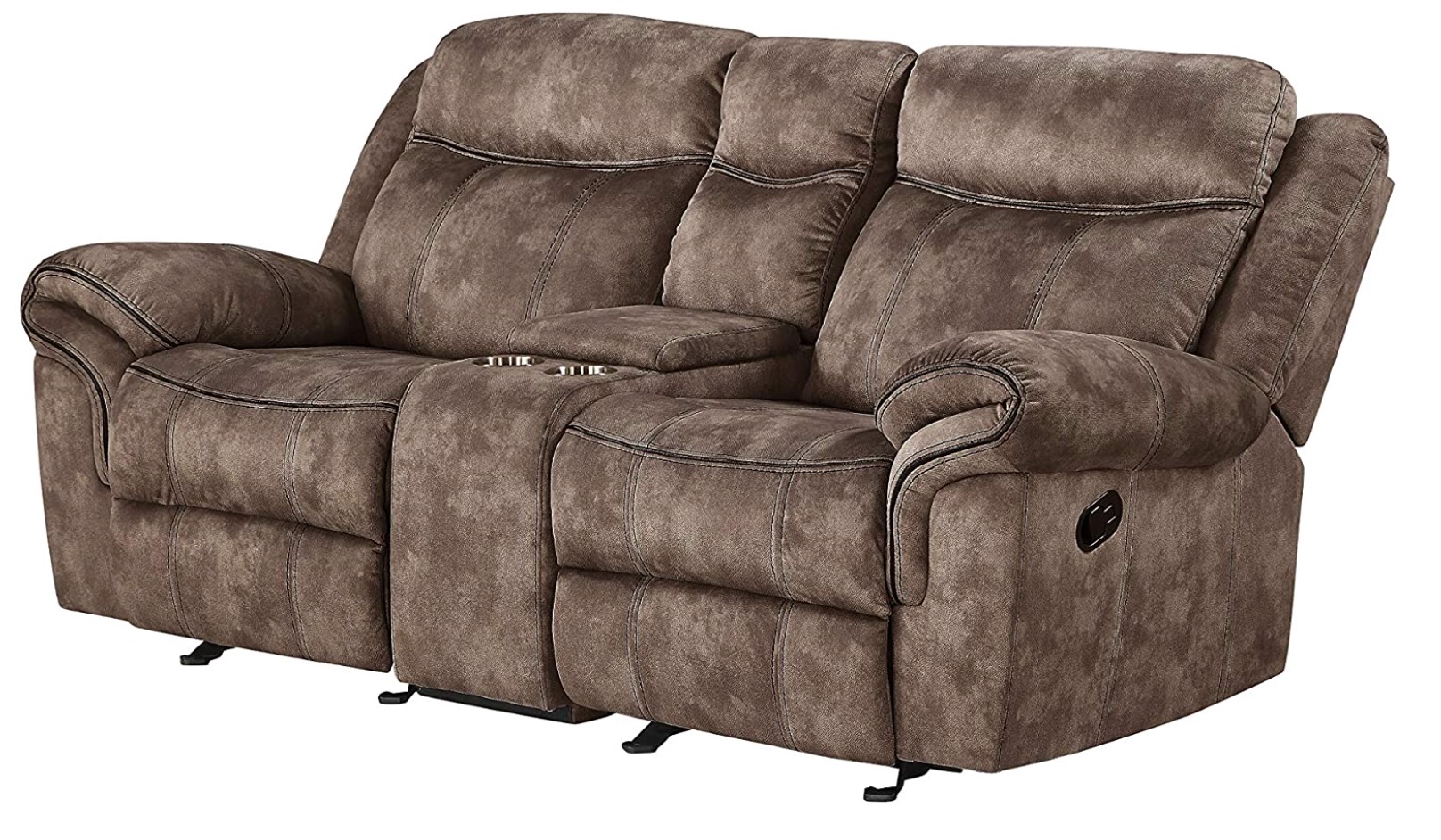 You can elevate the overall aesthetics of your RV by installing this stylish Zubaida loveseat to relax after a hectic day of driving on the roads. This wider sofa fits perfectly in small rooms and doesn't let you compromise your comfort, thanks to the pillow top armrest and cushion backrest. Also, the tight back ensures no loose cushion on the back, offering a firm yet comfortable snug. You can minimize clutter in your RV by storing all the snacks or sofa throws in the storage console.
» View and check price…
We hope that you find this review useful. Whether you're looking for Lazyboy specific RV recliners or different brands from Amazon we hope that you find the suitable recliner for your RV, trailer or motorhome.
Recliners make it easy to rest, relax and lean back at different angles. Lazyboy recliner sought-after because they provide comfort with their soft cushioned seat, wide arms, and adjustable reclining back. Although it can be the ideal furniture, it may require armrest covers which will be reviewed in this article.
4 Reasons Why You Should Buy Armrest Cover for Your Recliner
• Improved durability of the recliner: Often, nothing wears out faster on your recliner than its arms! The suitable arm covers or arm protectors can help you extend the life of your lazyboy furniture for years to come. For instance, they can provide protection from daily wear and tear, stains, and scratches.
• Easy maintenance: Apart from protecting the lifespan of the recliner, a clear advantage of armrest covers is that they are typically machine washable. Thus, they can easily be slipped off and put in the washing machine whenever they become dirty. No wonder it is a must-have for homes with children and pets.
• Easy to use: The armrest covers are often made with premium fabric material that is softer, more flexible, and easy to stretch, such as linen, spandex, or polyester. The material makes it easy during the installation process, and it is also easy to remove. In addition, it is easy to fit armrest covers to look concealed.
• Change the appearance of the recliner: One of the most overlooked parts of a recliner is the armrests. Even though many people usually take them for granted, it can be an option to revamp your recliner in terms of design. Since armrest covers come in several different colors, you can choose one to add style to your space.
5 BEST Lazyboy Recliner Armrest Covers
1. Subrtex Armchair Slipcovers for Recliner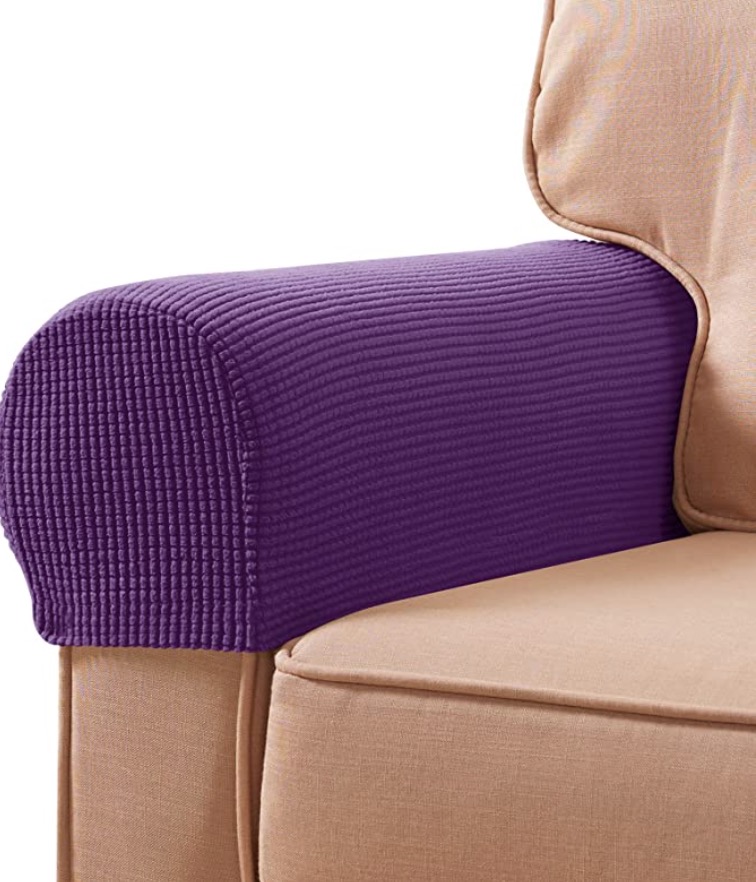 This armchair cover has the right dimensions and can be a one-size-fits-most option. Hence, it will fit most recliners. It is also made with excellent materials such as spandex and polyester that are high quality and provide functionality. In addition, it is easy to install and remove for machine wash. Even though this armchair slipcover is on the cheaper side, it offers total value for money as it has everything that makes a good armchair cover. It also comes with a warranty.
» View and check price…
2. Joywell Recliner Narrow Linen Armrest Covers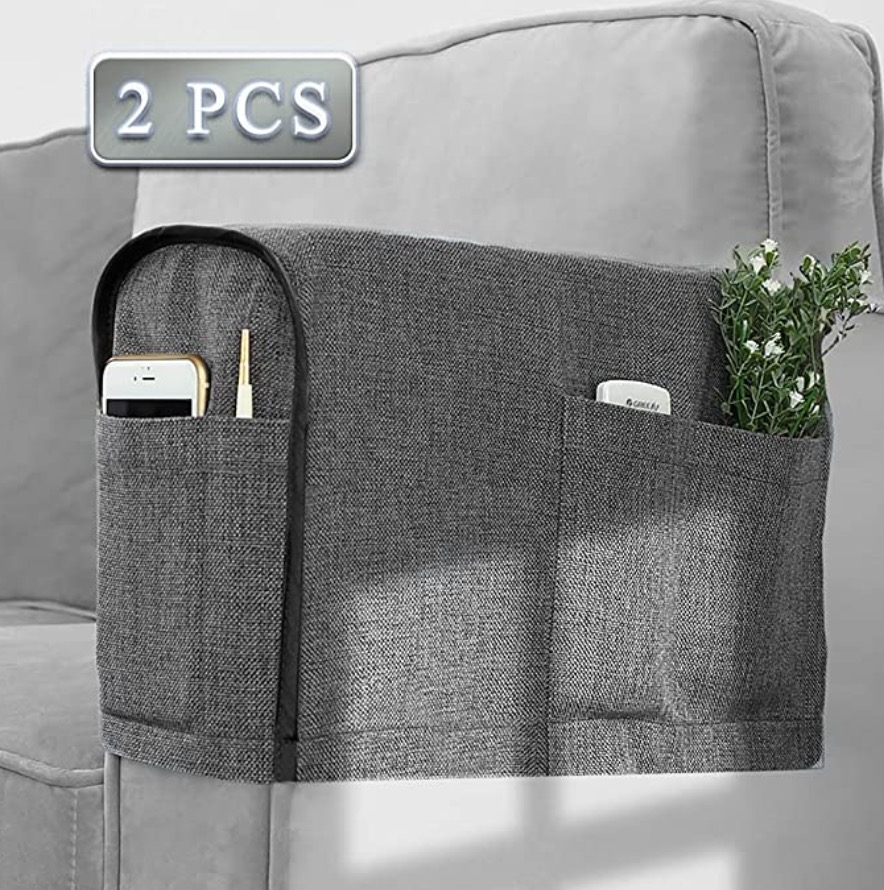 Renew your recliner armrest with this armchair cover. It's easy to install, remove and it's machine washable. It has a modern and innovative design with four pockets on the outside. These pockets can easily fit a TV remote control, phone, and other devices or items. Thus, you can have a convenient storage space right in your recliner. Additionally, there is unique composite water-proof material inside, so never mind if a drink spilled on the sofa armrest, this cover would protect your recliner.
» View and check price…
3. Haomaihia Sofa Armrest Cover
The HAOMAIJIA slipcover is made with high-quality cotton and polyester. Still, it feels like a luxurious velvet fabric, which is comfortable and durable. The material is very thick, and it will be comfy to use as a cushion. Additionally, it is a multifunctional arm cover that ensures that your furniture is protected from spills, dirt, wear and tear, especially suitable for leather recliners. It is also easy to wash with daily cleaning, support washing, or dry-cleaning. Installing it is easy with a nonslip backing-silicon rubber dot design.
» View and check price…
4. Deep Dream Sectional Couch Covers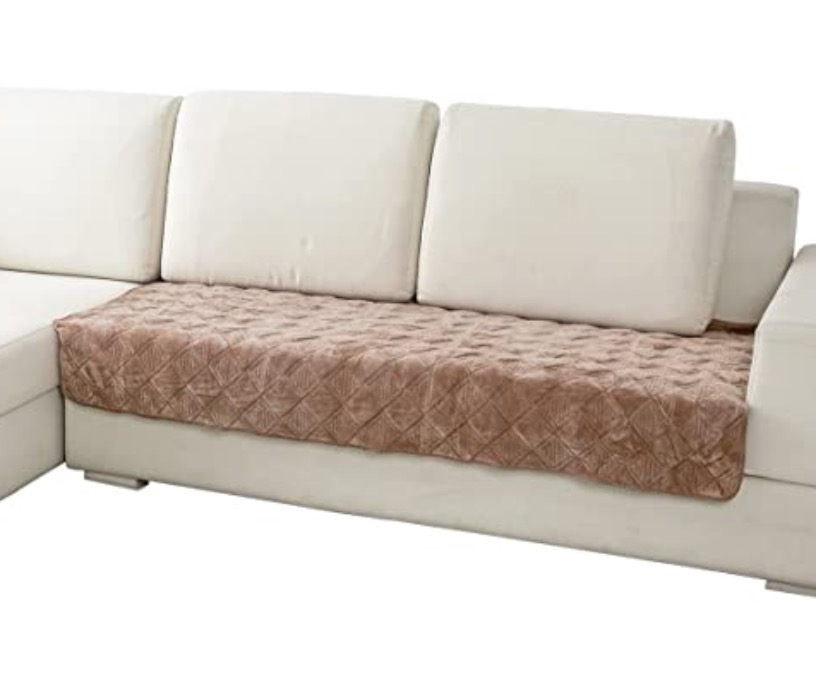 Deep Dream sectional couch covers have high-quality velvet and polyester fiber fabrics, which are soft and smooth to make your sofa more comfortable and durable. The armrest slipcover adheres well to the recliner surface, preventing wrinkling and slippage. The grippy material also enhances comfort while you are sitting on the recliner. It is suitable for all seasons, not only for recliner covers, but it is also multifunctional and can be utilized as a baby play mat, floor pad, window bench mat.
» View and check price…
5. Recliner Armrest Anti-Slip Furniture Protector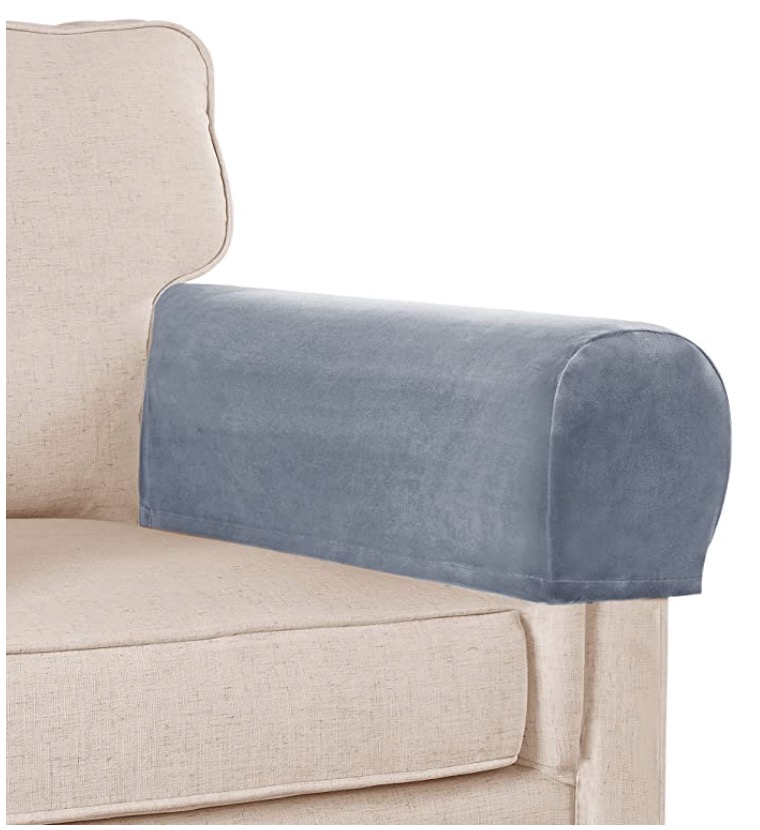 This skin-friendly and breathable armchair cover is made with actual velvet fabric that is thick and soft. In addition, the material is stretchy and does not fade. It also comes in various colors, which enhances your living room decor and instantly brightens up your old furniture. Also, it is easy to install and has a unique feature that enables the adhesive velcro, which is invisible, while holding firmly onto the armrest without tears or damage.
» View and check price…
Considering how expensive recliners can be, you have to make sure they last so you can enjoy every moment. However, you still need to put some effort into protecting your recliner to last long. The armchair cover or slipcover can be the solution since it is often the most damaged part.