Over the course of your recliner's lifetime, it will provide you with best sitting experience, allowing you to achieve maximum relaxation very easily. The cushy padding, excellent arm, leg and back support, luxurious covers and its ability to recline provide great comfort. This is why you should know how to fix the most common problems that take away from this experience and cause frustrations.
Footrest Problems
When the footrest fails to go up or down when you turn the handle, there is a high chance that the movable joints of the footrest's mechanism require some lubrication. Just flip the chair over and spray WD-40 on them.
And when the footrest fails to stay up, it means that either the spring that provides tension to the mechanism has gone out of place or it is broken or worn out. If it is the former, just put it back in place, but if it is the latter you need to purchase a replacement spring.
Footrest Loud Sound or Making Noise
First, make sure to open/close the footrest at a slower pace, don't slam it shut. You can place a rug or mat underneath the recliner to reduce the noise. You can also try applying some spray lubricant like WD-40.
Spring Has Broken
As explained before, a broken spring means the footrest won't stay up. If you need a replacement spring, you can easily purchase one online on amazon.com or ebay.com. Just be sure to search for "recliner spring" to get accurate results.
Learn more about Lazyboy broken footrest and spring…
Power Recliner Won't Move
Sometimes your power recliner won't move, and this happens because of a loose in-line plug. Grab a flashlight, check the base and ensure that all the connections of the wire that goes around the base aren't loose. When you find any loose connections, just reconnect them and carry out some preventative measures by wrapping them in black electrical tape.
Power Recliner Hand Control Not Working
When you are in the middle of closing the power recliner using the hand control, the mechanism can cut the hand control's wire, causing it stop working. To fix it, locate the hand control's cut wire underneath the base and twist it back together. Wrap the part where it cut in black electrical tape and make sure that it is placed away from the mechanism by securing it on the frame using zip ties.
Remote E68 Error / E69 Error
Remote error E68 or E69 error means the 9-volt alkaline battery are low and needs to be replace. You can easily replace it with a standard 9-volt battery.
Power Headrest Stuck or Not Moving
First, make sure you are pressing the button firmly. If it still doesn't work, check the cable line and make sure it's not disconnected and working properly. The hand control may be broken and needs to be replace.
Learn more about fixing your Lazyboy power recliner…
Tilts or Reclines When Not in Recline Position
The recliner's mechanism is most likely bent or broken when you notice that it is tilting as if you have reclined it when it is not in the reclining position. Inspect the recliner to see if any of its parts are bent or broken and replace them or take it to a repairman or authorized dealer.
Tilts or Reclines Too Much
If you find that when you lean into the chair, it reclines way too much for your liking, then it means that the recliner's mechanism isn't providing enough tension to support your body weight. What you need to do is increase the tension of the mechanism to solve this problem.
Feet Don't Touch the Floor
Your feet don't touch the floor when you sit on the recliner because its base is too far from the ground. To fix this, all you need to do is adjust the pitch of the recliner downwards in order to bring the base closer to the floor.
Learn more about Lazyboy recliner adjustments…
Fabric or Leather Damage
You don't need to throw away your recliner just because you have noticed an imperfection in the fabric or leather due to tears, stains or burn holes. You just need to purchase a repair kit for your fabric or leather. The repair kit will contain everything you need to fix the imperfection.
The Chair is no Longer Comfortable
When the chair is no longer comfortable when you sit on it, it means the padding is the issue. This leads to the cushion getting too compressed, causing your body to sink into it without adequate support. You need to have the padding replaced by an authorized Lazyboy dealer in order to fix this problem.
Learn how to take care of your Lazyboy recliner…
Need Specific Parts for My Chair
Sometimes when you inspect you chair, you will find that a specific part is broken or worn out, such as the mechanism's spring or recliner handle. Your best bet is to quickly find a replacement part by searching for it on amazon.com or ebay.com.
Now that you know the common problems associated with Lazyboy recliners, their solutions and were to get replacement parts, if they are needed, we hope you won't panic should one of these problems surface. Most solutions provided here will save you hundreds of dollars in repairs, so always try to see if you can repair it yourself before replacing the unit or taking it to a repairman or authorized dealer.
After a long day, there is nothing better than sitting down and putting your feet up on the perfect sofa. However, choosing the ideal lazyboy sofa has never been more challenging due. This guide to finding the best Lazyboy sofa and couch will help you know what to keep in mind.
3 Reasons to Buy Lazyboy Recliner Sofa and Couch
• Comfort: Lazyboy sofas offer an unmatched cozy feel when resting in it to read a book, watch movies, take naps, or anything else. These days, most chair sofas also offer lumbar support, and thus, it helps your back and sensory system rest. In addition to its form and functionality, the lazyboy couch also adds a modern touch to any living space.
• Durability: The lazyboy couch is not only beautifully crafted, but it is also quite robust. It is also available in larger dimensions than other couches and can even be customized. Therefore, you will have a sofa that relieves stress and has a long lifespan before needing repairs or replacement.
• Conserve space: Purchasing a lazyboy sofa will allow you to maximize the space available in your living area, therefore, giving you extra value for money. Aside from the obvious comfort factor, the dimensions of most modern lazyboy sofas provide additional saving on space available while also adding style to the room.
3 Best Lazyboy Recliner Sofa and Couch
1. Trouper Reclining Sofa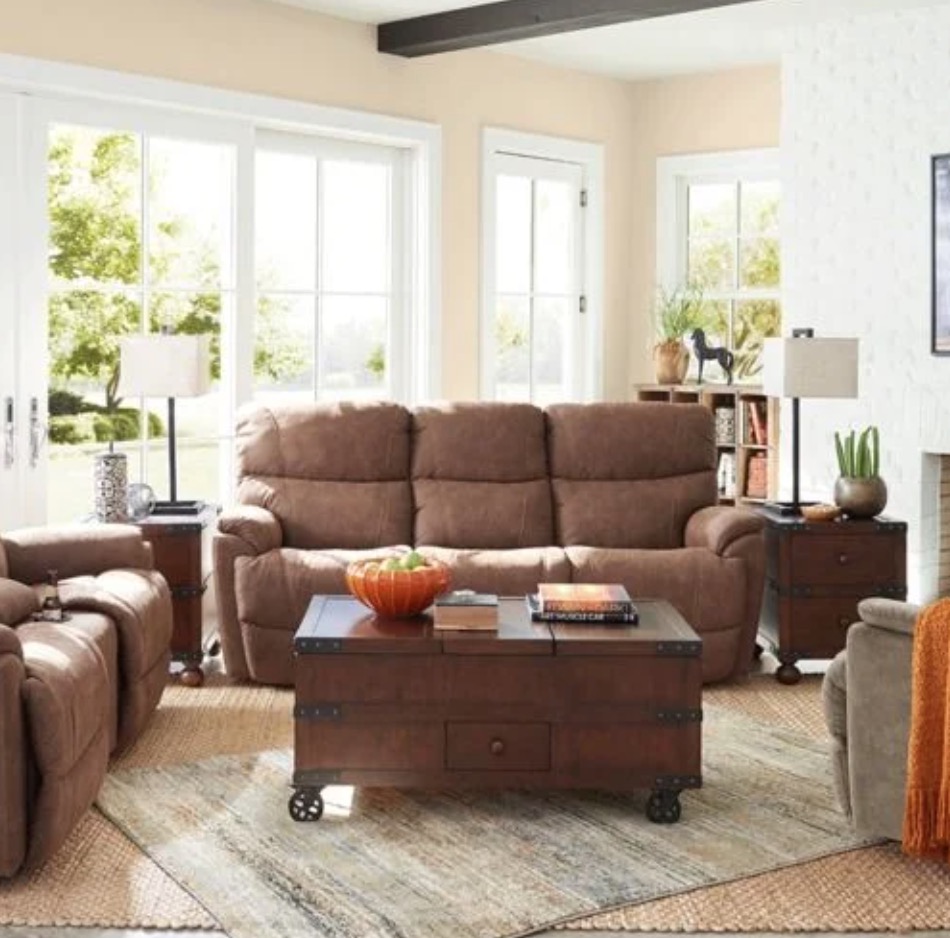 The Trouper reclining sofa is perfect for casual evenings, time with friends, or even cozy family nights. You can easily sink into one of the three sculpted bucket seats as you enjoy the split back cushion, which provides soft support for your body. It eases the stress on your head, neck, and lumbar regions. Also, the dual-sided reclining allows both the right and left arm seats to recline. You can also adjust the back and chaise leg rest for personalized reclining comfort.
2. Hayes Power Reclining Sofa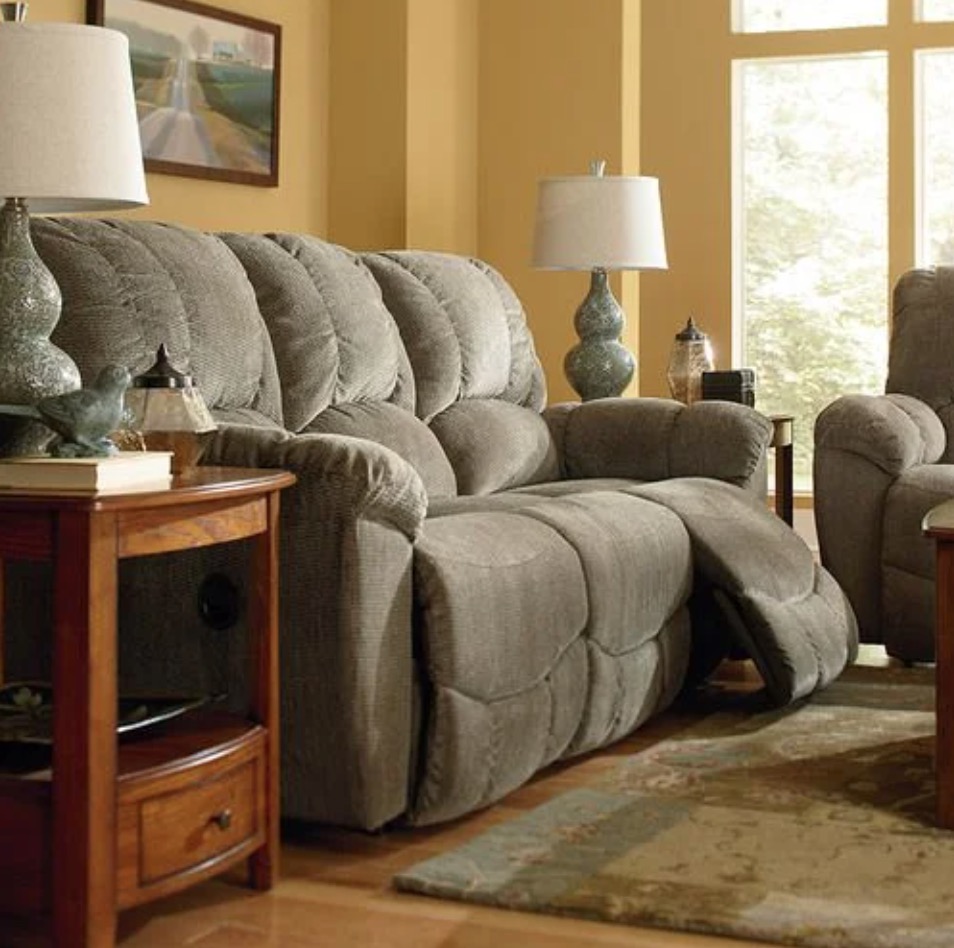 This unique sofa offers modern relaxation. It even has an innovative touch as it includes built-in USB ports powering your smart devices or tablets while you relax. It is generously sized for luxurious comfort. It features plushly padded chaise seats and leg rests, pillows, top arms, and a channel-stitched back that maintains its shape and support year after year. Additionally, it is easy to use with a side-mounted 4-button control panel to recline, raise your feet, and more.
3. Talbot Sofa
The Talbot Sofa is clean and informal. It adds casual comfort at its finest and style that will draw attention in any space. It also has a quality build and framework that offers countless hours of durability and comfort. Additionally, this ultra-comfortable sofa has high-grade foam seat cushions to maintain their comfort and appearance and premium grade fabrics and leathers tested to resist wear and fading. Apart from unmatched quality, it is perfect for everyone, especially people between 5'10" to 6'2."
4. Kipling Power Reclining Sofa
The Kipling Power Reclining Sofa with Headrest has a slim profile with tastefully padded arms to keep it looking clean, tailored, and exquisite. The Kipling sofa features a foam upper back and a fiber-filled lower back for just the right mix of comfort and support that represents the best of contemporary chic. Its one-piece chaise seats and leg rests create a continuous comfort zone in the reclining position, while the split back and flange stitching allow it to blend effortlessly with several styles.
BONUS: Best Recliner Sofa and Couch from Amazon
Add comfort and beauty to your living room with the luxe look of leather with this power reclining sofa. It offers plush modern comfort with USB charging ports, adjustable headrest, flip-up padded armrests with storage, and cup holders. It has a contemporary charm that features LED lighting, nailhead trim, and sleek waterfall back design, creating an ultra-modern and cool aesthetic in your living room. In addition, this couch has a generous size and provides plenty of surface area.
2. Flash Furniture Harmony Loveseat Recliners
The contemporary styling of this sofa will fit nicely in your living room, den, basement, or man cave. It can add extra comfort for anyone by featuring soft leather upholstery, firm, plush arms, and pillow back cushions. It also has excellent lumbar support that can help to take the pressure off of the muscles while you relax. The additional adjustability options mean that you can easily move the seat to suit your body and ease it into relaxation mode.
Lazyboy sofas are usually built to maximize comfort when lounging and relaxing. However, there are now numerous choices available than ever before that promise comfort. However, this guide has provided what you should be on the lookout for when considering getting a lazyboy, and hopefully, you will find the perfect one.
Recliners are often a welcomed addition to the furniture in your home since they are stylish, comfortable, and relaxing. However, some recliners wear out in months if it is not suited for the right body size. This article covers the best Lazyboy recliners for the big man who may weigh 300-400lbs.
Top 3 Best Lazyboy Recliners for Big Man (300-400lbs)
The Astor Rocking Recliner was designed to bring relaxation to new heights with larger users in mind. It is one of the tallest recliners and features a deep, wide seat to fit different body sizes. It also has a tall pillow back with three semi-attached cushions that can adjust to your body's contours. Also, the chaise seat and padded flared arms are made with premium-grade fabrics and leathers tested to resist wear and fading while maintaining comfortableness.
This Lazyboy is a relaxing rocker with a smooth, graceful motion made to provide the ultimate comfort. It has high-grade foam seat cushions that maintain its comfort and appearance. Additionally, it is made with premium-grade fabrics and leathers that are resistant to wear and fade. Thus, this maximum style rocking recliner can handle heavy-duty use and provide comfort to larger body sizes. Finally, it is made with a suitable frame and has a firm but cozy wide seat.
This ultra-comfortable recliner combines unmatched relaxation with an uber casual attitude. Its wide, padded arms and chaise seat with leg rest create a continuous comfort zone for various body sizes. It primarily caters to oversized people allowing you to fine-tune it to your body. This plumply padded chair is covered in a soft leather-look upholstery with a naturally distressed look. Additionally, there's also instant lumbar support and a locking 3-position footrest. Triple reinforced arms add to Gibson's comfort and durability.
BONUS! Best Non-Lazyboy Recliner for Big Man (300-400lbs)
1. Signature Design by Ashley Ludden Ultra Plush Manual Rocker Recliner
This recliner delights the senses with plush upholstery that is easy on the body and the eyes as it is handsomely textured twill. It has a divided bustle design, and puckered stitching meld comfort and style. Its high weight capacity and quality covering are great for heavy-duty use and plumpy people. It also has a power recline function with an effortless one-pull reclining motion that eases your back into comfy, wrapped in ultra-soft high-resiliency foam cushions for a profoundly relaxing experience.
This rocker recliner offers soft comfort, soothing massage, and dual USB charging all in one. It is a modern and more affordable recliner perfect for dens, halls, living rooms, or man caves. It has eight powerful and unique massage motors that target four different zones on the body with five intensity levels and nine modes. Also, within this exquisitely upholstered recliner is a heater that provides mild heat to the lumber area, which is perfect for cold nights and relaxation.
3. Flash Furniture Brown LeatherSoft Rocker Recliner
Add an element of contemporary style and comfort to your space with this rocker recliner featuring soft and durable LeatherSoft upholstery. This recliner is perfect for big and heavy people with large dimensions. It has plush arms, bustle back cushions, and soft leather upholstery that gives deep-cushioned comfort. In addition, it is built with notable details such as solid frame constructions feature, and it has high-quality foam. So be ready to sit back and relax, wrapped in ultra-soft upholstery that adds style.
Tips/Guide for Buying Recliners for Big Man
Finding the perfect recliner that best suits your body size and personal needs can be challenging. Here are some tips to remember when shopping for a recliner that fits the big man:
• The size: Look out for the chair's dimensions and seat. If you can test out the chair before purchasing it, that would be great since not all recliners perfectly accommodate a big or tall person. Also, be sure to have measurements of a recliner you have used and compare it with those you are concerning.
• The durability: Consider the materials used to construct the recliner, such as whether its frame is made of furniture-grade plywood or steel. The best structure is often a heavy-duty metal subframe with stable, sturdy legs.
• The space available: Once you have assessed the dimensions and the recliner is conducive for your body type. You also have to check if it will be a good fit for your allotted area at home or office. Remember that the location should be bigger than the recliner since it takes up an additional 6-8 inches from the space to allow it to recline.
Finding the right chair has never been easy. However, the furniture industry now has a plethora of options. As a result, there are tons of Lazyboy recliners on the market in our modern times. Hopefully, this guide will help you find the most suitable one for big and chubby people!
If you own a Lazyboy recliner, there's a high chance it comes with 3-positional locks. Each locking position allows you to maximize resting comfort in any of your best position. And I am going to show you how it works and the best way to maximize it. Let's dive in.
How Lazyboy Recliner 3-Position Lock Works
The recliner chair comes with a lever by the side. You can adjust the footrest for each locking position when you push this lever. The first locking position opens by 1/3, then the second lock position opens by ½, and for the last part, the lazy boy recliner opens by 2/3.
The first locking position gives you the best television view. The second locking position allows for comfortable relaxation. Inclining the footrest to the third footrest position provides the utmost resting position and is a good relief for back pain.
However, once you open up the footrest at the first locking position, you can't close immediately by default. You have to move the lever to the last locking position and switch the back clockwise to lock up the footrest.
3-Position Lock Replacement & Repairs
Usually, moving the lever to achieve the best resting position on the recliner should come effortlessly. However, if it becomes difficult to close and gets stuck, there's a need to check the underside for suitable footrest repairs.
The component responsible for locking the footrest is known as the 3-position lock. Whenever this 3-position lock has a scrape or cuts, it almost becomes difficult to adjust or return to normal position. Hence, there's a need for change.
To make proper repairs, follow these steps:
• Turnover the recliner and expose the underside. Check whether the components are well-aligned and ensure there's no displacement.
• With the aid of the recliner's lever, open the footrest to maximum height.
• Look at both sides of the recliner to take out the 3-position lock. Here you locate clips and remove them on either side. Remember, one clip at a time.
• How you remove the 3-lock position component is different for each side. For one part, you only need to tag out the 3-position lock, which doesn't have an attaching element.
• Then look at it to check for any deformations or wears and try to file it away.
• For the other side, there's a spring held on a rotating square bar (attached to the lever or handle by the chair side). It is this spring that aids the movement of the lever for locking. Here, you remove spring from the square bar and a tad off the 3-position lock.
• Look for the correct 3-position clip and push the center clip in a square hole until you hear a click sound.
• Place the 3-position lock along with the click back to each side. Ensure you place the spring on the square tab.
• Carefully close the footrest with the lever and turn furniture to a normal position.
• Once you are done with repairs, test the footrest to ensure all 3-positions are placed securely.
Where to Buy Parts
Getting parts of a Lazyboy (especially the 3-position lock) is relatively easy. All you need is a quick search for the nearest furniture stores near you. You can also look out for parts on official Lazyboy websites. On the good side, you can buy some parts on big e-commerce stores like Amazon, BestBuy, and numerous companies.

Besides, if you need a quick fix, you can hop over to e-Bay to get some used parts. That allows you to buy these items at a lower price than getting a new one.
This sums up all you need to know about the three-locking position for the lazyboy recliner. So, you know what's responsible for locking the footrest as you move the recliner handle one pace at a time.