Small spaces often require smaller furniture, but it does not mean that you have to give up the comfort. Lazyboy offers some pretty good recliners that have perfect dimensions for smaller spaces and yet still don't lack the comfort and the coziness (that usually comes with small furniture).
Three reasons a Lazyboy is the best for small spaces:
– First, a small room doesn't necessarily need to be decorated with petite furniture. One piece that is large enough to welcome you into its comfort, and yet small enough not to ruin the space will put a great accent in the room. By investing in a comfortable Lazyboy recliner you are investing in a long-term comfort, a standout piece that will be the center of the attention.
– Lazyboy offers recliners that have smaller sizes, that are equally comfortable and cozy as any other recliner on the larger size. The size truly does not matter, because Lazyboy does not spare on comfort, softness, and coziness. Just because your place won't allow you to decorate it with super, mega large furniture, it does not mean that you cannot find an equally comfortable piece that will serve you well.
– Every Lazyboy recliner gives you the option to extend the legrest, so even if this is the only piece of furniture in your small room, you know that you are going to be provided with a comfortable chair where you can sit, or take a refreshing nap, all with the touch of a button. Lazyboy sizes vary but the comfort is equal.
Here's The Best Lazyboy Recliners for Small Spaces
1. Joshua Reclina-Way Recliner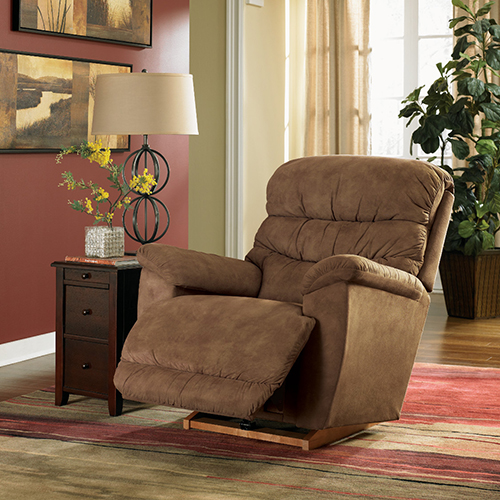 With its elegant design and carefully crafted inside and outside, Joshua offers a soft rest for your neck and head. Your arms as well will have a lovely rest on the side padded cushions, and you won't have to worry about your legs and back either. The fact that this recliner is slightly smaller, makes it beyond ideal for a smaller living room or a perfect chair for a tiny game room. You can even rock and lounge on it because Joshua has it all.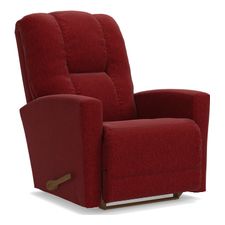 Casey is an elegant design, made specially to fit any chick and modern designed living room or bedroom. This recliner has a soft way of welcoming you into its softness and will take care of you in a way you only hoped for. Soft backrest, carefully designed armrests to keep your arms in a nice position and a mandatory legrest – Casey has everything a modern human needs. With Casey you can now recline in only several inches from the wall. Isn't it perfect?
3. Maverick Reclina-Way Recliner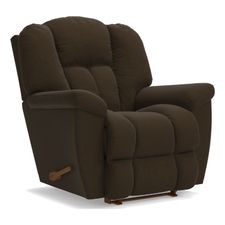 Maverick looks like a comfy and puffy seashell. This recliner has the ideal size for your small space, and it will not disappoint you at all. Every inch is carefully padded with soft materials, allowing your back, legs, arms and your neck have the ultimate comfort after a long and busy day. This recliner can do miracles for a nice nap, all you need to do is push the button on the side and let the legrest expand.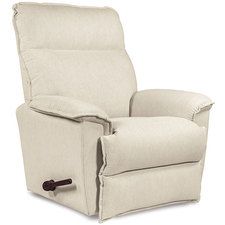 Excellent when comes to its sharp design, Jay has a high backrest that will not let you down when you use this recliner to watch TV or play video games. Smaller on the size, Jay will fit ideally in a tiny living room, won't suffocate the space and yet will give you the needed comfort. The simple lines make it ideal for perfectionists who want minimalism. Jay is nicely softened with the puffy backrest and the comfortable seat. The mandatory button for the legrest is there too as a cherry on top.
Small spaces no longer have to lack comfortable furniture, because now Lazyboy offers you all the comfort you seek nicely wrapped in puffy, comfortable and soft recliners that will help you rest and lounge just a few inches off the wall.
Are you seeking that perfect Lazyboy room decor, but you still can't really make up your mind? Lazyboy offers a wide range of super comfortable, easy to use and fancy designed recliners and sofas but here you can also find great Lazyboy design and decor ideas for your home.
Below are amazing collections of Lazyboy room decorations ideas and inspirations to hopefully help you in your own home interior design.
Grey Microfiber Big Man Rocker Glider Recliner
This cozy living room has calm colors and a super cozy grey microfiber rocker perfect for everyone who appreciates comfy naps.
The "Maverick" Rocker
Elegant and classy and yet comfortable and soft, Maverick fits perfectly in this cozy, pastel and elegant living room. Looks amazing next to the rich brown tone of the dresser and makes a wonderful match with the beige carpet.
Warner 3-Way Reclining Lounger, Antique, Olive Green
This duo-chromatic room with a cozy fireplace gets a wonderful contrast with dark brown leather chair. Seems like the best seat house, ideal for a lovely warm up next to the fire.
Perhaps this choice room designs will give you ideas for your home. Don't be afraid to mix and match styles and colors and add furniture that stands out. All of these rooms spread a nice and calming vibe whether they are decorated in classical, modern or rustic style.
Your night-in dedicated to gaming will instantly become better when you decided to sit in a Lazyboy recliner. Gamers know how consuming video games can be and that's why they need something that will give them comfort and will not make their back and muscles hurt only after an hour.
So what makes a Lazyboy recliner ideal for gaming?
– First of all, any regular desk chair is good, but it is not excellent and does not give that soft feeling that your Lazyboy gives. Sitting for a long time on a hard chair is not pleasant at all and let's not forget about all the muscle pain you will feel afterward. And what is better than sitting on a soft and comfy chair while you are gaming?
– Your Lazyboy recliner will give you the ultimate back support. The softness of the cushions on each part of the recliner give a comfortable feeling and you will forget about that ugly tingling in your limbs. Arms and legs need excellent support in the long run, especially during game playing sessions.
– Let's not forget the fact that your Lazyboy will also support your legs; sitting on a chair with your legs down leads to swelling and pain. When your legs are nicely elevated and your back and arms well supported, you are good to focus on your game for hours. Any Lazyboy recliner will provide you this comfort and you know you deserve it.
Here's Our Pick for Best Lazyboy Recliners for Gaming
1. Fortune PowerReclineXR+ Reclina-Rocker Recliner
Fortune's classic look makes it an evergreen. What makes it perfect is that you can raise and lower your legs and back independently, with a press of a button. Now you can spend hours sitting on the Fortune and not feel any back or arm pain. You can raise and lower your back and legs independent of each other. Now you can fully relax thanks to its lumbar support and a power tilt headrest. A bonus – it rocks.
2. Vail PowerReclineXR Reclina-Rocker Recliner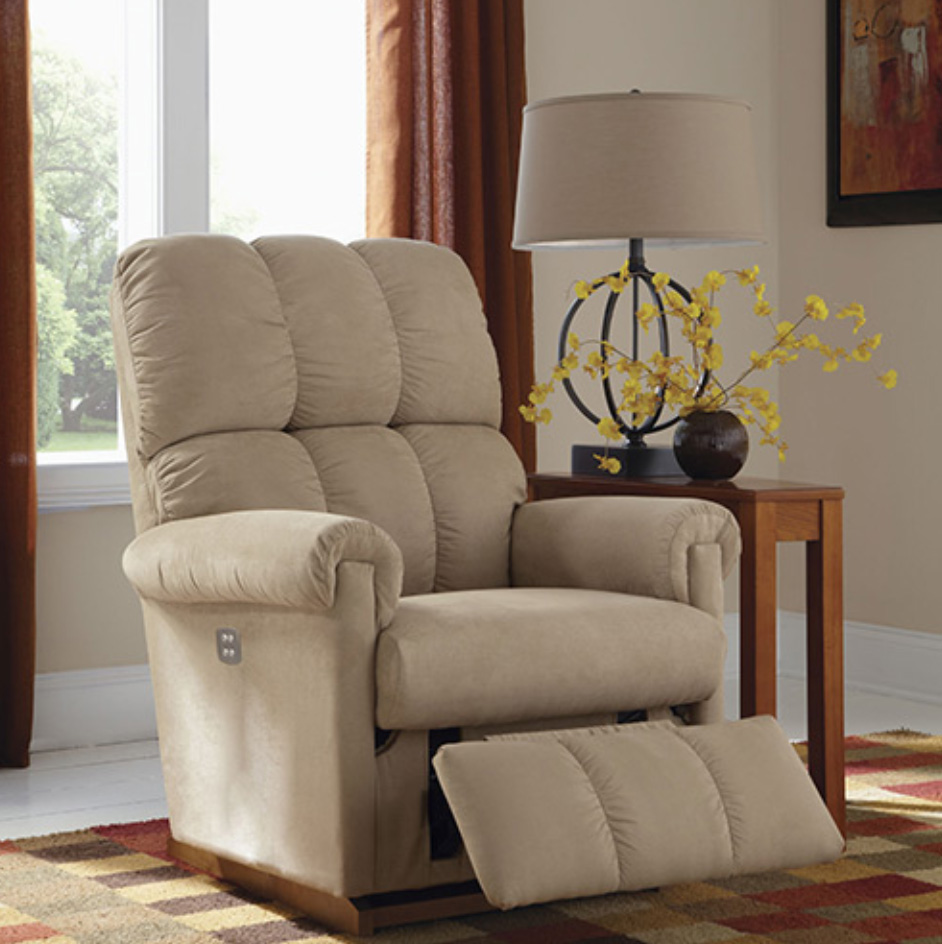 Vail will move you gently and will give you the ultimate back and legs support while you are trying to win your favorite video game. This fancy looking, soothing rocker recliner is designed specially for all night gaming sessions. PowerReclineXR has a power option that can independently adjust the back and legrest only with the touch of a button. You can also set different combination of positions and play your video games for hours and still feel fresh. Elegant, comfortable and big enough to keep you cozy and relaxed, Vail will surprise in a great way.
3. Coleman PowerReclineXR Reclina-Rocker Recliner
Less is more is the main premise of Coleman's design. This recliner is ideal for people who live in smaller spaces but do not want to lack big comfort. Coleman has a smaller scale, but its comfy and big cushions, chaise seat and the mandatory legrest make it ideal for long hours in your game room. Even if you don't live in a small space you will still do a great choice with Coleman and its option that lets you adjust the back and legrest in any position you want.
4. Asher PowerReclineXR Reclina-Rocker Recliner
Adorable, puffy and visibly comfy, Asher is the only place you would want to sit while holding your joystick and playing your favorite video game. This large-scale recliner was made for gamers who do not compromise with their comfort and who love big and cozy rockers. The Ultra Plush T-chaise seat construction and the soft fabric are only two of the many reasons to get it. PowerReclineXR has no limits when comes to reclining positions and as all Lazyboy recliners, everything comes with just the touch of a button.
Lazyboy offers a great choice of large and small recliners, with ultimate back and leg support – super important features for gamers who spend a lot of time sitting. Designed to keep you in the best comfort, these recliners will not cause you any back or leg pain even after a whole night gaming session.
Lazyboy is perhaps one of the comfiest armchairs out there and no wonder people adore them. Made of plush cushions, the armchair is specially designed to provide you with soft comfort and let you rest while you are watching TV, playing your favorite video games or reading a book.
However, with constant use, the Lazyboy seat cushion can wear out.
Replacing a Lazyboy seat cushion is not a complicated process at all; in fact, it can be done very quickly, but you have to be sure you have picked a cushion that is suitable for your Lazyboy.
Here are six steps that will help you easily replace a Lazyboy seat cushion in no time:
Step 1
First of all, you have to find the information tag on your Lazyboy. Sometimes the replacement of the cushion may be under a Lazyboy warranty cover. Make sure you check it carefully before you take the further steps.
Step 2
Once you got the information tag, contact the Lazyboy warranty department and let them know the info you see on it. They will know exactly whether your cushion replacement is covered under the warranty cover. If it is, you can order a new cushion (make sure it is an original Lazyboy cushion); in case your Lazyboy armchair does not provide your cushion with a warranty cover, then you will have to get a new cushion (again be sure it is Lazyboy original cushion, in order to avoid possible problems when you place it on your original Lazyboy armchair).
Step 3
Once you get your new cushion, see the information tag so you can correctly match the cushion with your armchair. Please follow the steps and get the needed tools before you start removing the cushion.
Step 4
It is time to get rid of that worn-out cushion. Remove it from the armchair (make sure you do it carefully; use a screwdriver and make sure you remove each part carefully without breaking anything). Once you removed the old cushion, slide the new cushion in its place. If you own a recliner, you should know that the rear cushion should be mounted to the chair back.
Step 5
Next, find the cushion's release levers on every side of the back of the recliner. Push the levers upwards; this way they will release the back cushion. Remove the cushion carefully and prepare for the final step.
Step 6
The final step requires you to lift the back cushion off the chair and replace it with a new back cushion. Push the new cushion in till you hear the sound of the levers clicking in their new place. They are now locked in and your Lazyboy is good as new.
If the step by step instructions above are not clear enough. Here's a video showing how to replace a seat cushions:

Replacing a cushion in your favorite Lazyboy armchair is really an easy process and you can do it at home by yourself, without spending money taking your Lazyboy to a local repair store. Make sure you follow the steps and the chair's information tag and you will be good to go. In case you have extra questions about this process, you can always call your Lazyboy department and get more info.