Lazyboy designers think about everyone's needs while making their furniture. Except for regular recliners, there are also those for elderly people. These recliners have been specially designed to meet the needs of those who have more trouble making themselves comfortable. Since choosing the perfect recliner can be demanding, we will review some of the best models on the market.
What to consider when buying a recliner for elderly people?
The elderly person's needs
Before deciding on a chair, think about what the person you're buying it for needs. Is it a relief from back problems, or a chair that will be not only comfortable, but warm, especially during long winter nights? Depending on this, you can choose a chair with the functions that are necessary to make the elderly person more comfortable.
Functionality
Choosing the right functions doesn't mean you've chosen the right chair. Maybe it's too big, or can't be lowered to a reclined position because it's too close to the wall, or simply doesn't work well. This is why you will have to try it out before buying it.
Right Size
The correct size and shape are the key considerations that include seat height, depth, width, armrests, and back height. For instance, if the seat is high, the legs hang, or if the seat is low, the recliner won't offer the desired support to the legs. Therefore, it's best to measure the elder and select the recliner accordingly.
Stability and Smooth Operations
If you don't want the elders to tip off while getting into or off the recliner, you must ensure the base is made of sturdy material, such as frame or wood. Similarly, the recliner should offer smooth and silent operations to prevent disturbance. That's why you investin a durable recliner with premium-quality moving parts that you can periodically oil.
Quality
All your efforts will be in vain if you choose a low quality chair. The person you're buying it for will probably be using it a lot, which is why you have to decide on something that will stand the test of time.
Customer service
Even if you do everything else right, the chair might break at one point. If you're buying it for an elderly person, it would be best to choose a company that provides quality customer service, just in case the chair needs to be fixed.
TOP 3 Lazyboy Recliners for the Elderly
1. Clayton Luxury Lift-Power Recliner
Clayton is one of the most popular chairs for the elderly, since it has all the functions of the two previous models, plus the heating system which is controlled with the remote. Clayton is the right choice if you want both functionality and a rugged appearance. With the padded track style arms and the cushioned back, it makes sitting and relaxing extremely comfortable. It is very good for people who have difficulties getting up from their chairs, as well as problems with circulation, all thanks to its heating system. When seated, the motors in the chair move it into a reclined or lying down position. »
Buy now!
2. Pinnacle Platinum Luxury Lift Power-Recline XR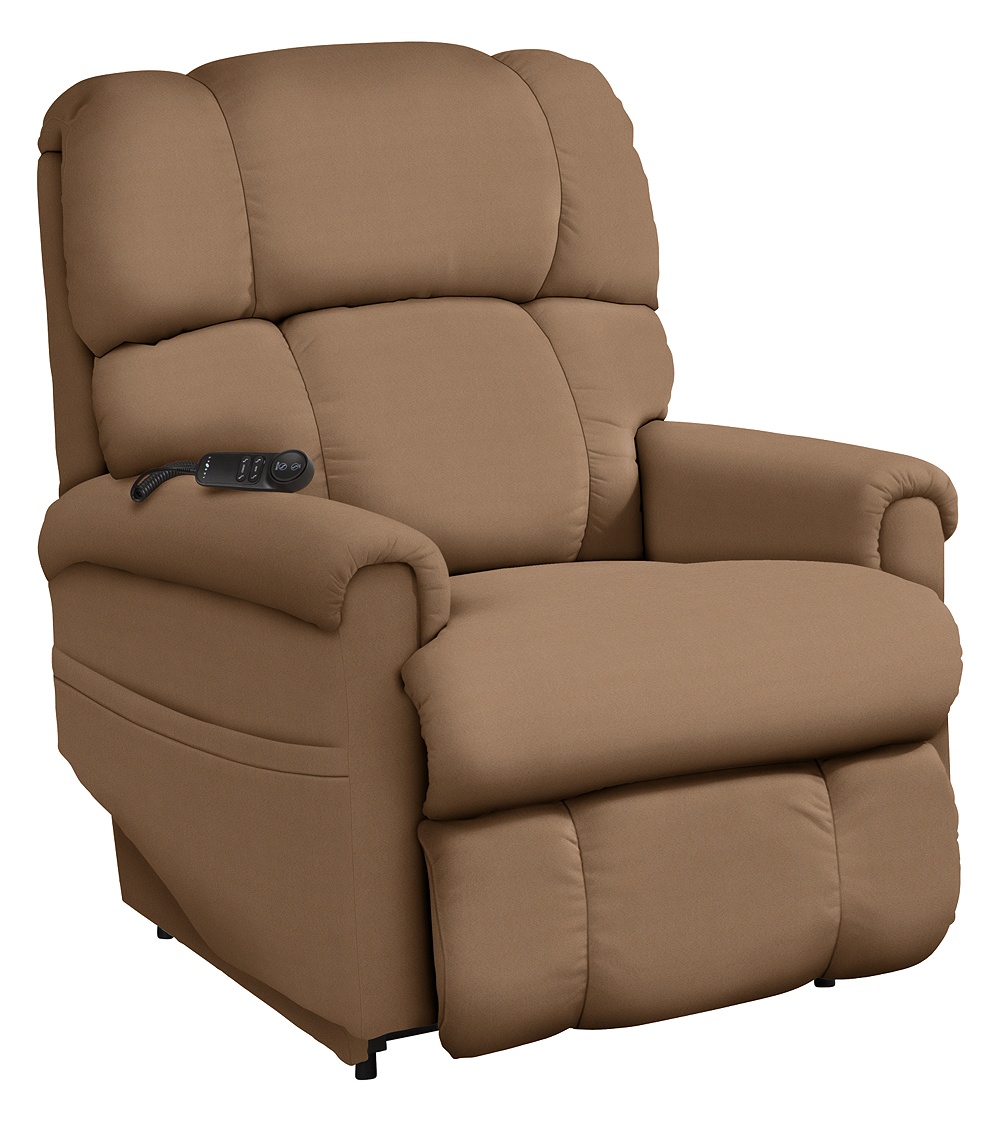 This recliner is equipped with a remote control to help you sit or stand without much effort. Pinnacle Platinum is properly cushioned and has stitched details on the back. It is also possible to update this chair with memory foam, which is a great option for an elderly person looking for maximum comfort. When buying a Lazyboy chair, you always get the warranty, as well as top-of-the-line customer service, which can be of great importance when it comes to people who are immobilized. This type of chair is also a very good solution for an elderly family member recovering from a surgery. It is so comfortable and has so many options that it can be adjusted to any need. »
Buy now!
3. Astor Platinum Luxury Lift Power-Recline XR
This luxurious recliner has been upgraded with a few new tricks. It can be controlled with a remote for raising and lowering the chair. This feature allows secure seated or standing position. Both the backrest and the footrest can be adjusted independently to any position or combination for limitless relaxing possibilities. This chair is made specifically for elderly people who experience back problems or have problems getting up and down from a sofa or a chair. The remote control that comes with the chair will certainly make their lives a lot easier. »
Buy now!
Best Non-Lazyboy Recliners for Elderly
1. Mcombo Electric Power Lift Recliner
This recliner offers power lift assistance that supports the elderly to stand up without exerting stress on the knees or back. You can conveniently assemble the recline within 15 minutes without requiring additional tools. You can operate the eight vibrating points for 10, 20, 30 minutes sessions. Also, you can turn on the lumbar heating point to soothe your back muscles. Other features such as dual USB outlets, side pockets, and cup holders come in very handy, allowing you to place all the necessary things near the elders.
» View and check price…
2. Power Lift Recliner Ever Advanced Lift Chairs Recliners
The assist standing coupled with smooth reclining and lifting allows you to precisely adjust the angles to support the elderly in standing. It's not just a simple recliner; it incorporates the eight-point massage function for four stress parts: legs, thighs, backrest, and lumbar. Also, the five vibrating modes offer customized comfort and relaxation as you can select any of the two massage intensities. Finally, the heating mode keeps your body warm during the winter.
» View and check price…
3. Power Lift Recliner Chair for Elderly Electric Massage Sofa with Heated Vibration
Being environmentally friendly, investing in a durable recliner chair made of non-toxic material such as timber is essential. It's a featureful recliner with a noiseless lift motor to ensure better lift assistance. The cushion and stuffed backrest wrap your body as if it's hugging you. Also, the two-button operation allows older people to adjust the reclining position up to 150 degrees conveniently. The four custom zone settings and five modes will enable you to personalize the massage settings of the eight vibration motors.
» View and check price…
These Lazyboy recliners have been designed to make it easier for elderly people who are experiencing bad back pain, and decreased strength or balance. They aren't necessary for seniors who don't need the extra assistance, who might have to maintain their strength by sitting in a regular recliner, but extra comfort is never a bad thing.
2 comments | Add One
Leave a Comment