Recliner chairs are a great solution for people with disabilities or handicaps, as they provide maximum comfort and support. It can be a challenge for disabled individuals to find the right furniture that fits their needs, but with the right recliner, they can enjoy the comfort and relaxation they deserve.
Why Recliner Chairs Are Best for Handicapped or Disabled Person
Offers Comfort and Support
A recliner chair provides the comfort and support that handicapped or disabled persons need. The chair's cushioning helps reduce pressure on sensitive joints, and its supportive backrest helps prevent back pain and discomfort.
Easy to Get In and Out of
Getting in and out of a recliner chair is much easier than a regular chair, especially for those who struggle with mobility issues. Many recliner chairs come equipped with a lift mechanism that helps you get in and out of the chair with ease.
Versatile Seating Option
Recliner chairs are also a versatile seating option for handicapped or disabled persons. They come in various styles and designs, allowing you to choose one that fits your aesthetic preferences and functional needs.
Things to Consider Before Buying Recliner for Handicapped/Disabled Person
When purchasing a recliner chair for a handicapped or disabled person, it's important to consider the following factors for optimum comfort and value for money:
1. Lift mechanism
It's essential to choose a recliner chair that comes with a lift mechanism, especially if the person struggles with mobility issues.
2. Size and weight capacity
Make sure to choose a recliner chair that can accommodate the person's weight and size comfortably.
3. Upholstery
Opt for a chair with a soft, comfortable, and durable upholstery that's easy to clean. This will allow you easy handling of the chair.
4. Adjustability
Look for a recliner chair that can be adjusted to the person's preferred position, including the backrest and footrest.
5. Armrests
Consider choosing a recliner chair with comfortable and supportive armrests that can provide added support.
Best Lazyboy Recliners for Handicapped or Disabled Person Review
With that in mind, let's take a look at some of the best recliner chairs available in the market.
1. Lazyboy Astor Platinum Power Lift Recliner with Massage & Heat


The generously scaled lift chair and power recliner comes with a tall base, adding 1.5 inches to overall height. It has a tall back with adjustable cushions for support, padded flared arms, chaise seat and leg rest, and moves together for full body support. The easy-to-use wired controller has a zero-gravity position and offers 3-setting heat and 6-motor vibration massage. This recliner is ETL safety certified and includes a Limited Lifetime Warranty with the option for customization.
2. Lazyboy Pinnacle Platinum Power Lift Recliner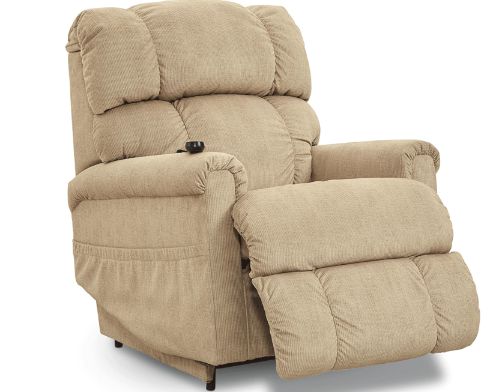 This lift chair and power recliner offers full body support and independent back and legrest motion with a power tilt feature. It also features a zero-gravity position to alleviate pressure. The chair has a 350-lb weight capacity, a battery backup in case of power failure, and is safety certified. The cushion is made of double-picked blown fiber fill and high-grade foam, and the chair is customizable with a choice of fabrics and upgrades. It comes with a Limited Lifetime Warranty and plugs into an AC outlet.
3. Lazyboy James Silver Power Lift Recliner


The James Luxury-Lift® recliner is the perfect combination of comfort, style, and convenience. With a simple hand-held remote, you can effortlessly adjust your position from sitting to standing to fully reclined. This space-saving chair requires only five inches of clearance from the wall, making it ideal for any living space. The generously sized seat and chaise legrest offer exceptional support, while the stitched pillow back and plush arms add to the overall comfort of the chair.
Best Non-Lazyboy Recliners for Handicapped or Disabled Person Review
1. Best Choice Products Adjustable Cup Holders


Enjoy a relaxing experience with this power lift recliner, featuring easy operation, built-in cupholders, and a side pocket for added convenience. Massage and heat functions target back, lumbar, thighs and legs with adjustable intensity, while a USB port allows you to charge devices. With sturdy anti-tipping design and 3 adjustable positions, you can find your perfect level of comfort.
2. Mega Motion Recliner Position Electric


The three-position electric lift and recline chair is designed to provide maximum comfort and convenience. With a standard ground curbside delivery and a 329 lbs. lift capacity, this chair offers reliability and durability. The integrated battery emergency backup ensures that you can always sit in comfort, even in the event of a power failure. The chair also comes with a 1-year in-home service warranty for added peace of mind. Whether you're looking for a comfortable place to relax or a chair to aid with mobility, this electric lift and recline chair is a great choice.
3. Peciafy Power Lift Recliner Chair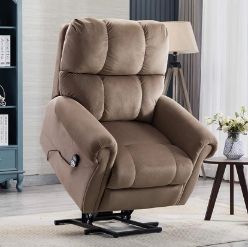 The luxurious power lift recliner is made of high-density foam and laminated veneer lumber (LVL) system for maximum comfort and stability. It's suitable for living room, bedroom, and home theater. The silent lift motor helps the elderly stand up easily without stress. With 10 massage modes and 4 focus areas, it offers a relaxing experience. The recliner is also comfortably padded with excellent lumbar support and full chaise seating. The larger size, wider armrests, and thoughtful storage space make it even more comfortable. With a weight capacity of 300 lbs, this recliner is heavy-duty and ready for use.
Conclusion
In conclusion, finding the right recliner for a handicapped person is crucial for their comfort and well-being. Recliners with power lift functions, massage and heating capabilities, sturdy and anti-tipping design, and spacious design are great options to consider. With the right recliner, handicapped individuals can enjoy their leisure time with ease and comfort.