Over the course of your recliner's lifetime, it will provide you with best sitting experience, allowing you to achieve maximum relaxation very easily. The cushy padding, excellent arm, leg and back support, luxurious covers and its ability to recline provide great comfort. This is why you should know how to fix the most common problems that take away from this experience and cause frustrations.
Footrest Problems
When the footrest fails to go up or down when you turn the handle, there is a high chance that the movable joints of the footrest's mechanism require some lubrication. Just flip the chair over and spray WD40 on them.
And when the footrest fails to stay up, it means that either the spring that provides tension to the mechanism has gone out of place or it is broken or worn out. If it is the former, just put it back in place, but if it is the latter you need to purchase a replacement spring.
Spring Has Broken
As explained before, a broken spring means the footrest won't stay up. If you need a replacement spring, you can easily purchase one online on amazon.com or ebay.com. Just be sure to search for "recliner spring" to get accurate results.
Learn more about Lazyboy broken footrest and spring…
Power Recliner Won't Move
Sometimes your power recliner won't move, and this happens because of a loose in-line plug. Grab a flashlight, check the base and ensure that all the connections of the wire that goes around the base aren't loose. When you find any loose connections, just reconnect them and carry out some preventative measures by wrapping them in black electrical tape.
Power Recliner Hand Control Not Working
When you are in the middle of closing the power recliner using the hand control, the mechanism can cut the hand control's wire, causing it stop working. To fix it, locate the hand control's cut wire underneath the base and twist it back together. Wrap the part where it cut in black electrical tape and make sure that it is placed away from the mechanism by securing it on the frame using zip ties.
Learn more about fixing your Lazyboy power recliner…
Tilts or Reclines When Not in Recline Position
The recliner's mechanism is most likely bent or broken when you notice that it is tilting as if you have reclined it when it is not in the reclining position. Inspect the recliner to see if any of its parts are bent or broken and replace them or take it to a repairman or authorized dealer.
Tilts or Reclines Too Much
If you find that when you lean into the chair, it reclines way too much for your liking, then it means that the recliner's mechanism isn't providing enough tension to support your body weight. What you need to do is increase the tension of the mechanism to solve this problem.
Feet Don't Touch the Floor
Your feet don't touch the floor when you sit on the recliner because its base is too far from the ground. To fix this, all you need to do is adjust the pitch of the recliner downwards in order to bring the base closer to the floor.
Learn more about Lazyboy recliner adjustments…
Fabric or Leather Damage
You don't need to throw away your recliner just because you have noticed an imperfection in the fabric or leather due to tears, stains or burn holes. You just need to purchase a repair kit for your fabric or leather. The repair kit will contain everything you need to fix the imperfection.
The Chair is no Longer Comfortable
When the chair is no longer comfortable when you sit on it, it means the padding is the issue. This leads to the cushion getting too compressed, causing your body to sink into it without adequate support. You need to have the padding replaced by an authorized Lazyboy dealer in order to fix this problem.
Learn how to take care of your Lazyboy recliner…
Need Specific Parts for My Chair
Sometimes when you inspect you chair, you will find that a specific part is broken or worn out, such as the mechanism's spring or recliner handle. Your best bet is to quickly find a replacement part by searching for it on amazon.com or ebay.com.
Now that you know the common problems associated with Lazyboy recliners, their solutions and were to get replacement parts, if they are needed, we hope you won't panic should one of these problems surface. Most solutions provided here will save you hundreds of dollars in repairs, so always try to see if you can repair it yourself before replacing the unit or taking it to a repairman or authorized dealer.
Its moving day and you are wondering how to carry your Lazyboy recliner, which is a relatively heavy piece of furniture, out of the house. Lifting it can put you at risk of body injuries, especially back injuries, and this should be avoided at all costs. Luckily, modern Lazyboy recliners have a removable back that can be separated from the body and reassembled with ease. Read on to find out how to do this.
How to Disassemble / Remove Back
Separating the back from the body is an easy process. All you need is a standard flat screwdriver and to perform the following steps:
– Locate the locking brackets at the back of the recliner on each side; they are situated in the narrow space in the middle of the back and armrest.
– Using the screwdriver, push the locking bracket's locking lever all the way up on each side in order to disengage the back. If you can't see the levers properly, try using a flashlight to shed some light and see better.
– Use the screw driver to gently pry the back from the body. This will lift it and completely disengage it.
– Standing behind the recliner, grab both sides of the back and gently rock it from left to right while lifting to separate it from the body.
And just like that, the recliner is ready to be moved, since you can now carry the back and the body separately. And for safety reasons, do not try to use the recliner until the back is properly reassembled, which we will talk about next.
How to Reassemble / Install Back
Now that you have safely carried the recliner to where it needs to be, it is time to return its back to the normal position so that you can use it. Do the following steps:
– Take the back and lay it across the body, making sure that it is in between the armrests.
– Lift it at a slight angle in order to align its locking brackets with the ones located on the body.
– Lower the back onto the body and make sure that the brackets are fully engaged.
– Verify that the back is indeed fully engaged by standing behind the recliner and wiggling the back from left to right. If both or a single bracket becomes comes out of place, then the brackets did not properly engage. At this point, you should disassemble it again and repeat the previous steps until you get it right.
– If all previous steps have been done correctly, take the screwdriver and push the locking levers all the way down in order to lock the back's brackets and secure it to the body.
Now that the back has been returned to its proper position, the recliner is ready for safe usage again. If you fail to reassemble the back, you should call a professional or contact your nearest Lazyboy dealer for assistance.
You can also watch the video below that shows the whole thing:

When moving day comes, you won't be dreading carrying your Lazyboy recliner, since you can remove the back from the body when leaving and put it back on arrival. This way, you are at no risk of incurring the common injuries that occur when trying to lift heavy furniture out of the house.
The footrest of a Lazyboy recliner is very important, since it provides much needed support for the legs and enhances its comfort levels, allowing you to achieve maximum relaxation. But one of the most common problems associated with any recliner is that the footrest can get broken, leading to many frustrations instead of enabling you to just sit back and relax. Read on as we discuss tips for repairing a broken footrest, as well as provide a list of replacement parts.
Footrest Stuck in Up Position? Use WD40
When you turn the lever of a Lazyboy recliner, the mechanism located at the bottom should release the footrest and lock it into position. When you turn it again, the mechanism should release it and return it to its original position. But what if this fails and the handle doesn't release the footrest? Use the lubricant WD40. Do the following steps:
– Flip the recliner over and loosen all the screws that attach the metal to the wooden frame.
– Place a rag or cloth over the material underneath the chair to avoid getting lubricant on the cushions.
– Spray the WD40 on all the chair's movable joints.
– Try the handle again to see if it will release the footrest, which it should at this point.
– Get a can of 3-in-1 oil and place a drop on each of the joints so that they remain lubricated. Be sure to use another rug or cloth to wipe any residual oil.
– Flip the chair over and your footrest should be able to go up and down with no problem.
Stuck Footrest Adjustments
The footrest can be either all the way down or all the way up with positions in between. Sometimes when it fails to go back down, it could be failing to go down to one of the in-between positions. What you can do, if you don't mind, is make a few adjustments to the footrest's mechanism so that it goes all the way up or all the way down without stopping in between. Do the following steps:
– Flip the chair over and locate the ratchet that locks the footrest in the in-between positions.
– Remove the part/bar that is attached to the ratchet and the front of the chair by dissembling it, removing its pins and springs.
– Test the footrest, and you should see that it either goes all the way up or all the way down – no in-between positions – now that the ratchet is free.
Here'a a great video explaining the whole process:

Footrest Won't Lock in Place or Won't Stay Up?
Sometimes when you pop the footrest, it doesn't stay up at all or falls right back down when you put the weight of your feet on it. What you must do if this happens is flip the chair over to inspect the mechanism and see if its spring is okay. The spring is what provides the tension needed to keep the footrest open or closed by holding it in place. It can sometimes break or get too overstretched. The only solution is to remove it and purchase a replacement spring to get the tension back in the mechanism.

Buy Footrest Parts
Here's some useful items for your recliner footrest that you can buy online.
Recliner Mechanism Tension Spring




This replacement spring is sure to bring back the tension in your recliner's mechanism. It has 4 5/8 hooks and its coil is 5/8 diameters in length.


» View and check price…
Recliner Handle Lever Style Foot Rest Release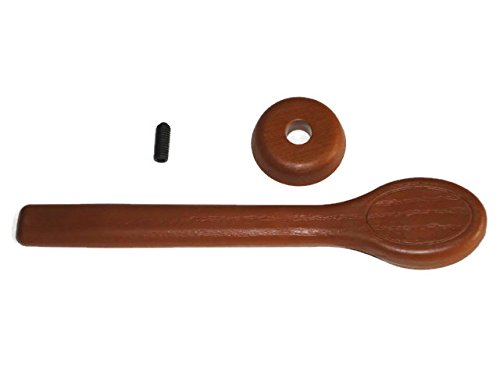 This replacement handle is made from wood grain and has a 1-inch steel set screw that makes it fit easily into the recliner's internal mechanism. It can be fitted on the left or right side of the recliner.
» View and check price…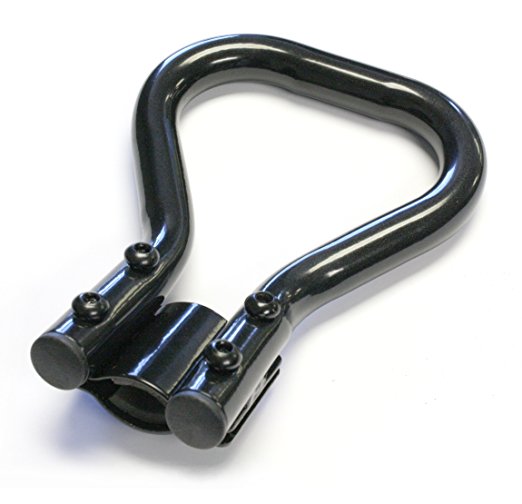 Reaching for the recliner handle is made easy with this lever extender while also providing extra leverage. It is made from durable solid steel and features an ergonomic drip and padded design.
» View and check price…
Purchasing a Lazyboy recliner is a huge investment, and you should be able to enjoy all the benefits it provides without limitations – footrest included. The above mentioned footrest problems are not specific to old recliners, as they can affect new ones as well. This makes it necessary to know how to repair the problem and what replacement part can help fix or assist you in accessing the footrest easier.
Are you in the market for a Lazyboy recliner but don't know which one to get? What may seem like a simple decision can become a head-scratching dilemma, with all the different models that are available. Lazyboys are stylish and comfortable, making for a good addition to any living space for maximum relaxation – it is no wonder that you want to get one. Read on because we have narrowed it down for you to the top five choices for 2017.
1. Tripoli Reclina-Rocker Recliner
Part rocker and part recliner, this chair brings the best of both worlds for modern-day comfort and relaxation. This recliner is stylish and made from very durable leather that also serves the purpose of making your entire body feel extremely comfortable. A lever allows you to adjust the tension to match your body weight and size so that you can rock or recline with ease. The addition of the chaise seat gives your legs the much needed support, which is also good for blood circulation and your back, on top of giving you more comfort.
2. Intermission PowerReclineXR+ Reclina-Rocker Recliner
This model has a very striking floral pattern that will leave a lasting impression on any who sees it sitting in your living room. It is also available in a range of colors and patterns, and you can customize it to your liking with extra add-ons. It is also designed for maximum comfort, and you can easily relax within seconds because it has the ability to freely move its legrest and back, allowing you to achieve the optimal resting position. Its power lumbar support and tilt headrest provide even greater maneuverability, and this gives you an endless amount of positions to try out.
3. Coleman PowerReclinerXR Reclina-Rocker Recliner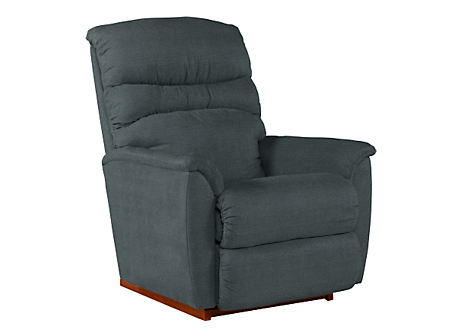 This recliner is sleek and can surely add a touch of modern elegance to your current furniture. It is also small for a recliner, meaning it is not too big for short people and not too small for taller people. With the padded cushions and the ability to independently move the back and legerest, it provides you with the highest level of comfort. The legs are also supported by the chaise cushion that runs from the head to toe – achieving true, full-body support and comfort.
4. Gabe Recline-Rocker Recliner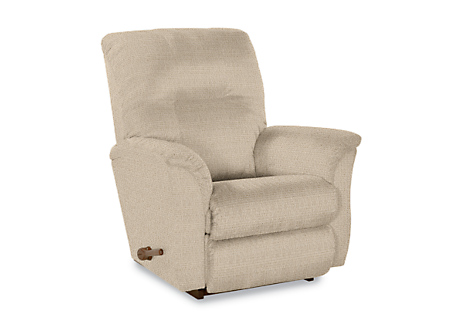 Cushy and stylish, this recliner provides all the benefits of a modern recliner and blends in any living room with its traditional-meets-modern design. The back is spacious and padded so that your back is adequately supported, and you can just throw your entire weight on it. It is made from 100% polyester fabric and a polyurethane foam that can be upgraded to a Memory Foam for even greater relaxation. Soft arms and a chaise seat provide arm and leg support, respectively.
5. Beckett Reclina-Glider Swivel Recliner
Another striking recliner for any contemporary family room, living room or bachelor pad. This recliner is versatile and is able to both swivel (spin) and recline, and it also comes in range of colors and patterns for its very cozy and high-performance choice of leather or fabric covers. The facts that it is small for a recliner shouldn't put anyone off if they are tall, since you can get it customized to fit your body and frame by getting an extended legrest or extra-tall base.
There are many great choices in 2017 when it comes to Lazyboy recliners, and each and every one of these would make a great addition to your current furniture. But it all boils down to personal preference, and we hope we have made the decision easier for you.