Your night-in dedicated to gaming will instantly become better when you decided to sit in a Lazyboy recliner. Gamers know how consuming video games can be and that's why they need something that will give them comfort and will not make their back and muscles hurt only after an hour.
So what makes a Lazyboy recliner ideal for gaming?
– First of all, any regular desk chair is good, but it is not excellent and does not give that soft feeling that your Lazyboy gives. Sitting for a long time on a hard chair is not pleasant at all and let's not forget about all the muscle pain you will feel afterward. And what is better than sitting on a soft and comfy chair while you are gaming?
– Your Lazyboy recliner will give you the ultimate back support. The softness of the cushions on each part of the recliner give a comfortable feeling and you will forget about that ugly tingling in your limbs. Arms and legs need excellent support in the long run, especially during game playing sessions.
– Let's not forget the fact that your Lazyboy will also support your legs; sitting on a chair with your legs down leads to swelling and pain. When your legs are nicely elevated and your back and arms well supported, you are good to focus on your game for hours. Any Lazyboy recliner will provide you this comfort and you know you deserve it.
Here's Our Pick for Best Lazyboy Recliners for Gaming
1. Fortune PowerReclineXR+ Reclina-Rocker Recliner
Fortune's classic look makes it an evergreen. What makes it perfect is that you can raise and lower your legs and back independently, with a press of a button. Now you can spend hours sitting on the Fortune and not feel any back or arm pain. You can raise and lower your back and legs independent of each other. Now you can fully relax thanks to its lumbar support and a power tilt headrest. A bonus – it rocks.
2. Vail PowerReclineXR Reclina-Rocker Recliner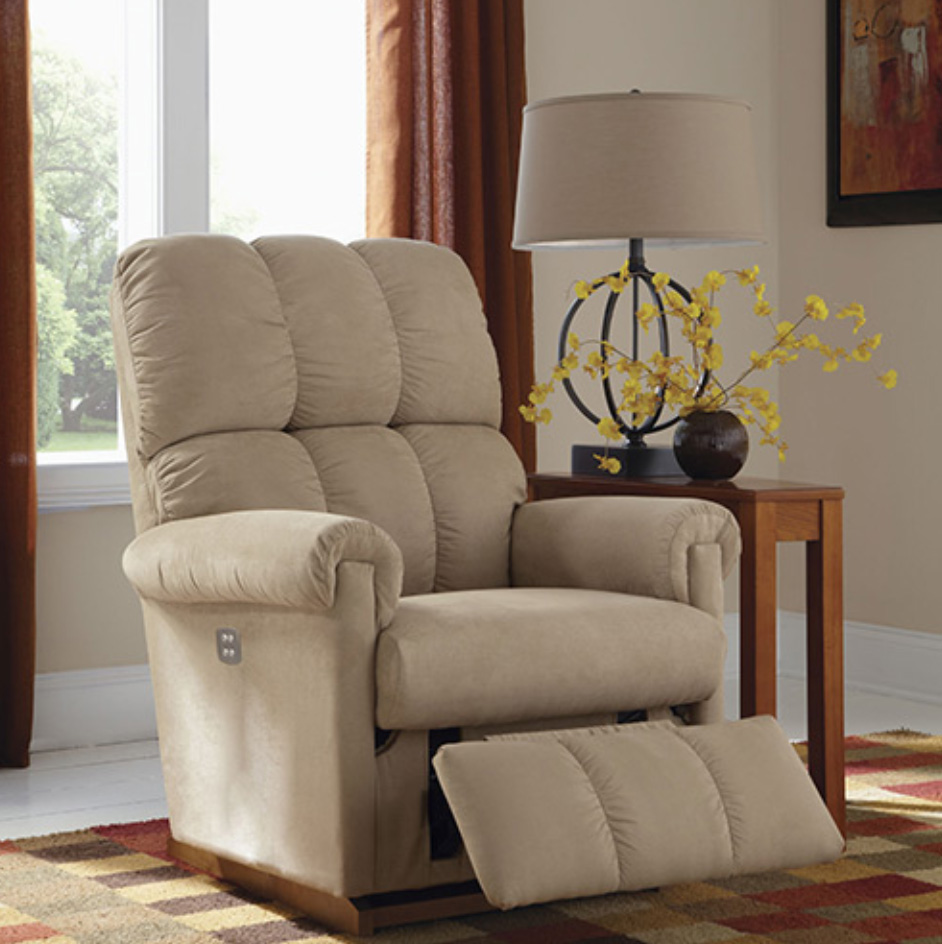 Vail will move you gently and will give you the ultimate back and legs support while you are trying to win your favorite video game. This fancy looking, soothing rocker recliner is designed specially for all night gaming sessions. PowerReclineXR has a power option that can independently adjust the back and legrest only with the touch of a button. You can also set different combination of positions and play your video games for hours and still feel fresh. Elegant, comfortable and big enough to keep you cozy and relaxed, Vail will surprise in a great way.
3. Coleman PowerReclineXR Reclina-Rocker Recliner
Less is more is the main premise of Coleman's design. This recliner is ideal for people who live in smaller spaces but do not want to lack big comfort. Coleman has a smaller scale, but its comfy and big cushions, chaise seat and the mandatory legrest make it ideal for long hours in your game room. Even if you don't live in a small space you will still do a great choice with Coleman and its option that lets you adjust the back and legrest in any position you want.
4. Asher PowerReclineXR Reclina-Rocker Recliner
Adorable, puffy and visibly comfy, Asher is the only place you would want to sit while holding your joystick and playing your favorite video game. This large-scale recliner was made for gamers who do not compromise with their comfort and who love big and cozy rockers. The Ultra Plush T-chaise seat construction and the soft fabric are only two of the many reasons to get it. PowerReclineXR has no limits when comes to reclining positions and as all Lazyboy recliners, everything comes with just the touch of a button.
Lazyboy offers a great choice of large and small recliners, with ultimate back and leg support – super important features for gamers who spend a lot of time sitting. Designed to keep you in the best comfort, these recliners will not cause you any back or leg pain even after a whole night gaming session.